Tyler Daugherty ('08 / '10)
Basketball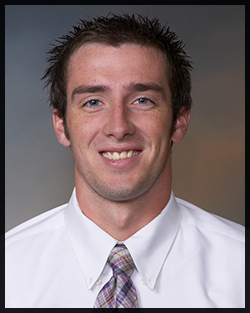 Tyler Daugherty graduated from the University of Dubuque in 2008 and received his master's in business administration from UD in 2010. During his time at UD, Tyler was a part of the men's basketball team from 2004-2008. His most notable athletic accomplishments include being a two-time 1st Team All-Iowa Conference honoree and winning the first round of the IIAC Tournament during his senior season (2008). While studying for his master's degree, Tyler stayed involved with the basketball program, serving as the graduate assistant for two years.
After graduation, Tyler went on to coach for Indiana University East men's and women's track and field for their inaugural season. He also coached the men's basketball team through the NAIA National Tournament. Since 2012, Tyler has worked for Travel Dubuque as the director of sports and events. In his role, Tyler coordinates community-wide events that attract national caliber competitions. Tyler has been happily married for six years to his high school sweetheart, Tory. The couple resides in Dubuque and are proud parents to their son, Benjamin.
By the Numbers:
Two-time First Team All-IIAC (2006-07, 2007-08)
Second Team All-IIAC (2005-06)
Third Team D3hoops.com All-Region (2007-08)
CAREER RANKS: 1st in 3-pointers made (255), 2nd in assists (354), 5th in steals (137), 6th in points (1724), 6th in points/game (17.2)
SINGLE SEASON RANKS: 2nd in 3-pointers made (76; 2007-08), 7th in free throws made (130; 2006-07), 7th in free throws attempted (165; 2006-07), 8th in 3-pointers made (65; 2006-07), 9th in 3-pointers made (59; 2004-05).