Warren Melchert ('55)
Cross Country - Track & Field - Wrestling | Hall of Distinction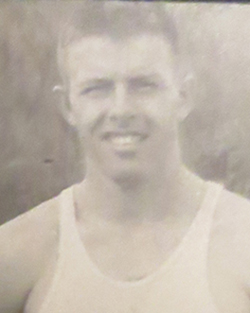 Leading has always been a part of Warren Melchert's (C'55) life. What began at the University of Dubuque in the early 1950's continued to be his chosen path long after graduation for this Hall of Distinction honoree. His activities around campus prepared him for his duties as an officer in the United States Marine Corps and to the top of the insurance industry for over 41 years.
Melchert competed in three sports at UD (cross country, track and field, and wrestling). He dominated the competition, winning three Iowa Conference titles in the men's pole vault from 1953-1955. He was a member of four IIAC title winning teams (1952, 1953, 1954, 1955) while competing in track. He also held the school record for over 10 years after graduation at 12 feet and 3 inches.
While a student-athlete, Melchert was active across campus participating in student government, choir, Phi Omicron, the Que, and as president of the "D" Club.
Upon graduation from UD, Melchert served as an officer in the U.S. Marine Corps stationed in Okinawa, Japan. After his return abroad, he joined Met Life Insurance Company for the next 41 years. He was the first agent in Iowa to lead the state in sales. During his years at Met Life, he worked to achieve several professional designations including Chartered Life Underwriter, Life Underwriter Council Fellow, Chartered Financial Consultant, and Register Investment Advisor. He earned the honor of being the #1 salesperson in the territory and led his sales team to be honored as the top sales team in the district.
Melchert was a proud member of the local Jaycees and Rotary Clubs and past president of the UD Alumni Association, Dubuque Symphony Orchestra, Dubuque Arts Council, Holy Trinity Lutheran Church, Dubuque Life Underwriters Association, Million Dollar Round Table, and Dubuque Ambassadors.
He and his wife Betty have four children: Sherri, Michelle, Jeff, and Stephanie. The couple recently celebrated 50 glorious years of marriage. They are also the proud grandparents of nine grandchildren.