William Johannsen ('52)
Track & Field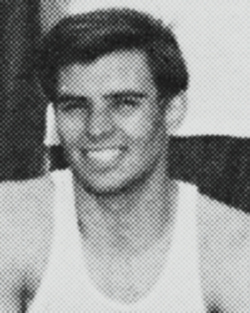 William "Bill" Johannsen (C'52) is a native of Dubuque and a four-year letter winner. Bill was described as a scoring "automaton" during his junior year as the 1951 Iowa Conference mile and two-mile champion. He repeated as the conference champion in the mile as a senior. As a team, the Spartans won the IIAC Championship in 1951 and 1952.
As a junior and senior the veteran distance-man was elected co-captain by his teammates. During Bill's senior year he competed at the Midwest Relays winning the mile and two-mile events. In the spring of his senior year Johannsen rolled through a 10:08.6 two-mile to break a decade old record. Behind his winning consistency, Bill led the team to an undefeated season with excellent showings in the Iowa Teachers Relays, the Beloit Relays, and the Drake Relays.
Bill graduated in 1952 and enlisted in the United States Air Force with a class assignment to aviation cadets in the Radar Intercept Program. Bill was commissioned a Second Lieutenant and placed on flying status in March 1953. He taught navigation for three years before going to pilot training. After graduating from pilot training, Johannsen was an instructor for student pilots into conventional and jet aircraft for several years. His flying career took him to Japan, Guam, Vietnam, and Germany. After 24 years of service, Bill retired with 8,000 hours of flying time.
Bill started a new career in hotel business after the Air Force. In 1990, he received a Certified Hotel Administrator certification from Michigan State University's School of Hospitality Business. Bill managed several hotels in Texas and Louisiana before retiring. Bill's family history with the University of Dubuque spans four generations from 1924 to 2007. His father Wilford, aunt Juanita, brother Bret, niece Mary Ann Specht, great-nephew Joseph Specht, and great-niece Jenna Specht are all UD graduates. Bill and his wife, Veryl, reside in McAllen, Texas.