William J. Reid ('57)
Basketball - Track & Field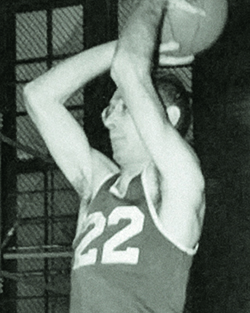 Lettering four years in basketball and one year in track, Bill Reid (C'57) accomplished many awards at the University of Dubuque. He earned Second team All-Iowa Conference in 1956 and First Team All-IIAC 1957. During his junior and senior years on the court, he led the team in scoring, with a total of 1,169 career points 372 of which were scored in his senior year. Bill was the second UD player, and one of the first 38 student-athletes in the state of Iowa, to score over 1,000 career points.
Even more outstanding than the amount of points he was able to score for the Spartans, were his skills and unselfishness during his four years on the basketball court. Bill was always willing to do what was best for the team as opposed to striving for any personal recognition.
In addition to his achievements at the University of Dubuque, Bill's basketball involvement included being a member of the Buena Vista College All-Opponent Team, the All Western Illinois High School 2nd Team, and the U.S. Naval Station San Diego Team. He also enjoyed playing fast pitch softball with the Aledo, Illinois VFW Team, the Dubuque Stamping & Manufacturing Co. Team, the Dubuque Indy League All-Star Team, and the Eleventh Naval District Headquarters Team.
His continued willingness to accept community leadership responsibilities since his graduation lends great credence to his being a stellar example of a quality University of Dubuque graduate. In his years since graduation, Bill served for three and one-half years as an officer in the U.S. Navy, and has dedicated most of his working career to A.C. Nielson Co., a marketing research firm in Pisgah Forest, North Carolina. Additionally, he has served as board member, secretary, and past-president of Fox Crossing POA, Inc. and is currently the election official for the Pisgah Forest, North Carolina, precinct.
Bill and his wife Donna, have been married for 43 years, and have raised two daughters, Jennifer and Kellie. Bill is currently enjoying retirement living in Pisgah Forest, North Carolina.