Five Spartans Named All-IIAC Softball
May 7, 2014 | J.Crane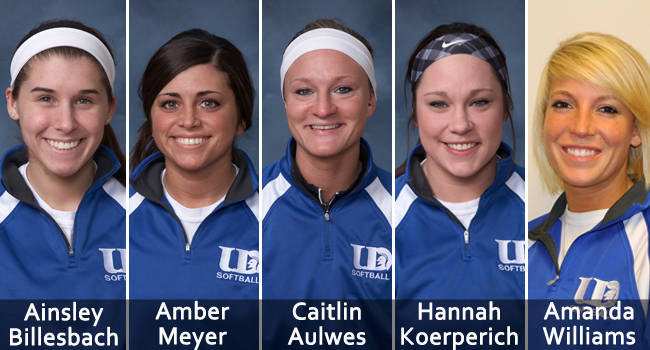 All-IIAC Performers - First Team: Billesbach, Meyer. Second Team: Aulwes, Koerperich, Williams.
CEDAR RAPIDS, IOWA - The Iowa Intercollegiate Athletic Conference (IIAC) announced its All-Conference Teams and major awards for the 2014 softball season with five Spartans earning recognition. Senior Amber Meyer (Bernard, Iowa/Cascade) and sophomore Ainsley Billesbach (Belvidere, Ill./Belvidere North) were named First Team All-IIAC. A trio of Spartans earned Second Team All-IIAC with Caitlin Aulwes (Edgewood, Iowa/Edgewood-Colesburg), Hannah Koerperich (Dubuque, Iowa/Hempstead), and Amanda Williams (Taylor Ridge, Ill./Rockridge) making the cut. UD finished the season with a school record 22 wins and qualified for the IIAC Tournament for the second straight year.
Coe senior Maddison Woodruff was named the Iowa Conference Softball Pitcher of the Year while Luther junior outfielder Kelsey Rose earned 2014 IIAC Softball Position Player of the Year. Coe head coach Bob Timmons received 2014 Softball Coach of the Year honors.
Meyer is a two-time First Team All-IIAC honoree making it as a catcher this season and utility player in 2013. She finished her four years at UD as the all-time leader in hits (146), runs (96), home runs (12), runs batted in (72), total bases (223), base on balls (67), on base percentage (.424), and games played (147). As a senior she had a .345 batting average (39-131) with 30-runs scored. In IIAC only games, she finished fourth in the conference with a .500 on base percentage and sixth in batting average at .425. She was also fifth in walks (9), sixth in runs (12), and seventh in hits (17) in 12 conference games. Defensively, she threw out eight runners trying to steal, second best in the IIAC for the season.
A first year starter at second base, Billesbach earned First Team All-IIAC behind a strong season on defense and clutch hitting. She finished the year with a .993 fielding percentage and 1.000 fielding percentage in IIAC action with no errors in 53 chances. Her biggest moment of the year came vs. #8 Luther on April 9th. With two outs and the game tied at 6-6, Billesbach doubled off the fence in left center to score Aulwes from first for the walkoff 7-6 win. In IIAC only games, she finished the year second in doubles (6), fourth in slugging percentage (.725), fourth in batting average (.425), and sixth in RBI (12). Her .993 fielding percentage is the highest in school history for an infielder.
A four-year starter in the outfield, Aulwes finished the year with a .304 batting average and 1.000 fielding percentage while starting all 37 games. In IIAC only games, she led the league with two triples and was sixth in runs (12) and eighth in slugging percentage (.658). She did not commit an error in 30 chances for the year.
Koerperich and Williams made an immediate impact on the Spartans team in their first year with the program. A Dubuque native, Koerperich returned to her hometown by throwing two no-hitters including a five-inning no-hitter vs. intra-city rival Loras on April 15th. Splitting time at DH and the mound she ranked fourth in the Iowa Conference with six home runs and was eighth in slugging percentage (.677). Williams came on strong the second half of the year finishing with a 3.11 ERA in arguably the toughest Division-III conference. In IIAC only games, she was fourth in strikeouts (39), third in innings pitched (54.0), and fifth in opponents batting average (.236).
The 2014 Spartans set school records in wins (22), runs (198), runs batted in (178), triples (15), home runs (25), slugging percentage (.453), and strikeouts on the mound (176). UD picked up four victories against NCAA Tournament qualifiers including a sweep of IIAC Tournament Champions and 8th ranked Luther (they haven't lost a game since). The Spartans were also the last loss for St. Scholastica who is currently on a 21 game winning streak. In the IIAC Tournament, UD eliminated #18 Central after two losses to close the regular season. For the season, Dubuque played 11 games against teams that made the D-III Tournament.
For 2015, UD will return 100% of its pitchers and 6 of 10 position players who batted at least 75 times in 2014. In addition to bringing back Billesbach and Koerperich, the Spartans will return 2013 All-IIAC second baseman Meggie Schmidt (Edgerton, Wis./Edgerton) who hit .369 (41-111) with 32 runs scored and four home runs after moving to short stop this season. The UD lineup will also return Tori Woltz (Wykoff, Minn./Chatfield), who led the team in batting average (.385), hits (45), and RBI (32).
The complete list of the All-Iowa Conference selections can be found at: All-IIAC
Stay up-to-date with all UD Athletics on Twitter at: @UDubuqueSports