Billesbach & Koerperich Named NFCA All-Midwest Region
May 12, 2014 | J.Crane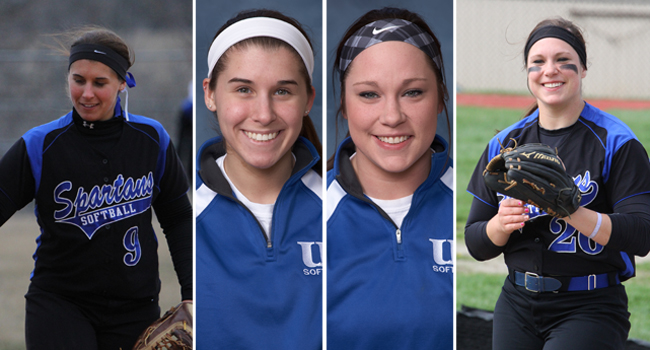 NFCA All-Region: Ainsley Billesbach and Hannah Koerperich.
LOUISVILLE, KENTUCKY - The University of Dubuque Softball team had two student-athletes named to the 2014 Louisville Slugger/National Fastpitch Coaches Association (NFCA) Division-III All-Midwest Region Team. The Spartans Ainsley Billesbach (Belvidere, Ill./Belvidere North) and Hannah Koerperich (Dubuque, Iowa/Hempstead) were Third Team selections. The 2014 Spartans set school records in wins (22), runs (198), runs batted in (178), triples (15), home runs (25), slugging percentage (.453), and strikeouts on the mound (176).
Billesbach, a first year starter, finished the season with a school record .993 fielding percentage making only one error in 137 chances. The sophomore second baseman had an outstanding season at the plate hitting .344 (33-96) with 10-doubles, two-triples, three-home runs, and 21-runs batted in. A First Team All-IIAC honoree, her biggest moment of the year came vs. #8 Luther on April 9th. With two outs and the game tied at 6-6, Billesbach doubled off the fence in left center to score Caitlin Aulwes from first for the walkoff 7-6 win.
A dual threat, Koerperich earned all-region honors behind a steady bat and strong season on the mound. She threw two no-hitters and led the Spartans in home runs (6), slugging percentage (.654), on base percentage (.455), and total bases (66). A Second Team All-IIAC selection, she finished the year with a 7-3 record in her junior year. One of her biggest moments of the season came on April 15th when she threw a no-hitter against intra-city rival Loras College in the UD-Loras Strikeout Canker game.
A total of 45 student-athletes were selected NFCA All-Midwest Region with 18 of those being from Iowa Conference schools. The complete list of all-region performers can be found at: NFCA All-Region
Stay up-to-date with all UD Athletics on Twitter at: @UDubuqueSports