Odegard & Wolfe Named Ping All-Central Region
May 13, 2014 | J.Crane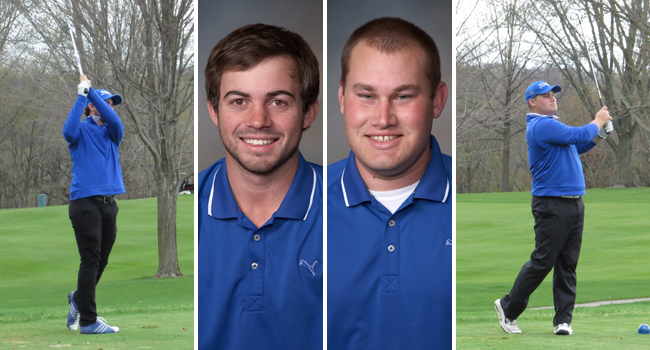 All-Region: Martin Odegard and Eric Wolfe.
GREENSBORO, NORTH CAROLINA - University of Dubuque Men's Golfers Martin Odegard (Dubuque, Iowa/Hempstead) and Eric Wolfe (Cuba City, Wis./Cuba City Community) were named to the 2014 Division-III Ping All-Central Region Team. The Spartans seniors are currently competing at the NCAA D-III Championships at Grandover Resort and Conference Center. Odegard and Wolfe each graduate as the only four-time All-Iowa Conference honorees in UD Men's Golf history.
A total of 92 student-athletes from six regions were honored by the Golf Coaches Association of America and Ping. The Central Region included schools from Illinois, Iowa, Minnesota, Nebraska, and Wisconsin.
Wolfe led the Spartans with three medalist honors, seven Top-5 performances, and ten Top-10 finishes in 13 events in 2013-14. He won at the Elmhurst Fall Invite, Ronnie Eastman Invite, and earned Iowa Conference Player of the Year with an 11 shot victory at the IIAC Championships. Wolfe shot a low round of 68 with an average round score of 73.16 (+2 over par).
Odegard had one win, five Top-5 performances, and nine Top-10 finishes in 13 events. His lone victory came by 4 shots at the Loras Spring Invite at Thunder Hills Country Club. He had a low round of 69 with an average score of 74.56 (+3 over par).
IIAC Championship Finishes

Wolfe

Odegard

2011:
5th
6th
2012:
7th
8th
2013:
7th
5th
2014:
1st
8th
** Top-10 finishers earn All-IIAC **
For the 2013-14 season, UD had nine first place, one second place, and two third place finishes in 13 tournaments. The Spartans began the year with wins at the Edgewood Fall Classic, Loras Fall Invite, and Division-III Midwest Region Fall Classic. After a second place finish at the Clarke University Fall Classic, UD finished the Fall Season with wins at the University of Dubuque Invite, Elmhurst Fall Invitational, and the Ronnie Eastman Invitational.
The Spring Season began with a win at the Webster College Gorlock Spring Invite before a third place finish behind #1 ranked Illinois Wesleyan on their home course at the Illinois Wesleyan Spring Invite. The Spartans rebounded to win the Loras Spring Invitational and a convincing seven shot victory at the Iowa Conference Championships.
Ping Division-III All-Region - 2014The complete Ping Division-III team can be found at: Ping Division-III All-Region - 2014
Stay up-to-date with all UD Athletics on Twitter at: @UDubuqueSports