All-IIAC for Casanova, Pablo, & Parisi
May 14, 2014 | J.Crane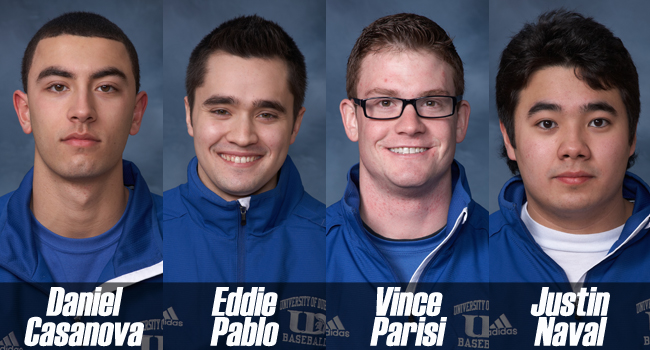 All-IIAC Performers - First Team: Casanova. Second Team: Pablo, Parisi. Honorable Mention: Naval.
CEDAR RAPIDS, IOWA - The Iowa Intercollegiate Athletic Conference (IIAC) announced its All-Conference Teams and major awards for the 2014 Baseball season with four University of Dubuque student-athletes earning recognition. The Spartans Daniel Casanova (Lake Tapps, Wash./Auburn Riverside) was named First Team Outfielder. Eddie Pablo (Yelm, Wash./Yelm) and Vince Parisi (Tinley Park, Ill./Andrew) were Second Team selections while Justin Naval (Oak Lawn, Ill./Richards) earned honorable mention. UD freshman accounted for 72.4% (226 of 312) of the teams hits, 72.3% (123 of 170) of the runs scored, and seven of 14 wins on the year. Casanova and Pablo were the only freshman to be recognized on the all-conference teams.
Buena Vista senior Jon Ringblom was named IIAC Pitcher of the Year while Wartburg junior D.J. Utley was chosen as the Position Player of the Year. BVU head coach Steve Eddie received Coach of the Year honors.
Casanova made an immediate impact on the Spartans lineup with a school record and IIAC leading 28 stolen bases. He led UD in batting average (.378), slugging percentage (.489), on base percentage (.462), runs (33), hits (51), triples (5), total bases (66), walks (14), steals (28), and at bats (135). He was one of two Spartans to start all 40 games this season. In IIAC only games, Casanova led the IIAC in steals (18), was third in hits (36), fourth in batting average (.375), fourth in on base percentage (.455), and fifth in runs (24). He was the first UD freshman to earn all-conference since Ezra O'Heron in 2001.
A four-year starter behind the plate, Parisi was named Second Team All-IIAC catcher. He led the league with 13 hit by pitches and threw out 15 runners trying to steal, the second most in the conference. The senior hit .296 (34-115) with a team high three home runs. He finished his time at UD with the eighth most games played in school history at 144 games while also recording 705 put outs which ranks second all-time at UD. He started all 40 games in his senior campaign.
Pablo earned Second Team All-Iowa Conference at Utility after splitting time between second and third base in 2014 as a freshman. He finished the year with 12 extra base hits (ten-doubles/two-triples) in 22 hits. In 20 IIAC games, he hit .328 (19-58) with nine doubles and an on base percentage of .391.
Another freshman, Naval pitched in a team high 13 games. He tied the school record with five saves and earned two wins in relief. The Spartans closer pitched 24 1/3 innings with 13 hits allowed, 24 strikeouts and a 1.85 earned run average.
The complete list of the All-Iowa Conference selections can be found at: All-IIAC
Stay up-to-date with all UD Athletics on Twitter at: @UDubuqueSports