34 Spartans Named to Spring Iowa Conference All-Academic Team
Jun 9, 2014 | J.Crane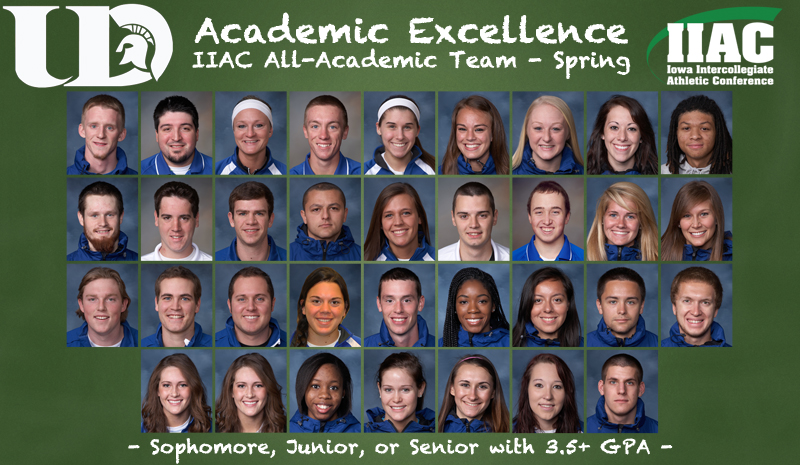 ‌
DUBUQUE, IOWA – The University of Dubuque placed 34 Student-Athletes on the 2013-14 Iowa Conference Spring All-Academic Team. To be eligible for the IIAC All-Academic Team a Student-Athlete must compete at the varsity level, be least a sophomore in academic standing, have attended the nominating institution for at least one academic year, and attain a 3.5 or better grade point average. The Spartans Softball team tied for the most honorees in softball.
Christian Armas, Caitlin Aulwes, Dishon Deering, and Joey Kilsdonk were each named Academic All-Iowa Conference for the third time. UD sophomore Jennifer Pohlman earned all-academic in three sports having participated in volleyball, indoor track, and softball during the 2013-14 school year.
Breakdown by State/Country: Illinois (11), Iowa (9), Wisconsin (7), Minnesota (3), Colorado (1), Florida (1), Texas (1), and Belgium (1).
Women's Track & Field - 11

Name

Year

Hometown/High School

Major

Brenda Breimon
So.
Oconomowoc, Wis./Slinger
Elementary Education
Taylor Cary
So.
Bettendorf, Iowa/Bettendorf
Psychology
Chantel Christiansen
So.
Anamosa, Iowa/Anamosa
Pre-Professional Health
Samantha Holen
Jr.
Rockford, Ill./Lutheran
Elementary Education
Alyssa Holt
So.
Durant, Ill./Durant
Nursing
Nickolette McKenzie
Jr.
Hoffman Estates, Ill./William Fremd
Wellness & Exercise Science/Business
Brenda Nava
Jr.
Chicago, Ill./Lane Tech
Flight Ops./Aviation Management
Jennifer Pohlman
So.
West Branch, Iowa/West Branch
Wellness & Exercise Science
Sade Pointer
So.
Rochelle, Ill./Rochelle Township
Criminal Justice/Sociology
Caitlin Simbeck
Jr.
Bayfield, Colo./Bayfield
Wellness & Exercise Science
Kim Trinco
So.
Schaumburg, Ill./JB Conant
Wellness & Exercise Science

Men's Track & Field - 7

Name

Year

Hometown/High School

Major

Zach Ahrens
So.
LeClaire, Iowa/Pleasant Valley
Criminal Justice
Tyler Dobratz
Jr.
Edgerton, Wis./Edgerton
Wellness & Exercise Science
Alexander Eckes
So.
Oconomowoc, Wis./Oconomowoc
Wellness & Exercise Science
Ryan Mattingly
Sr.
Janesville, Iowa/Janesville
Flight Ops./Aviation Management
Tyler Peugh
So.
Sterling, Ill./Sterling
Biology
David Ploenzke
So.
Prophetstown, Ill./Prophetstown
Religion
Evan Zurbuchen
Sr.
Hollandale, Wis./Madison West
Aviation Management

Softball - 6

Name

Year

Hometown/High School

Major

Caitling Aulwes
Sr.
Edgewood, Iowa/Edgewood-Colesburg
Wellness & Exercise Science
Ainsley Billesbach
So.
Belvidere, Ill./Belvidere North
Nursing
Kelli Gerace
Jr.
DeKalb, Ill./DeKalb
Physical Education Teaching, K-12
Magan Loes
So.
Cascade, Iowa/Cascade
Elementary Education
Jennifer Pohlman
So.
West Branch, Iowa/West Branch
Wellness & Exercise Science
Tori Woltz
So.
Wykoff, Minn./Chatfield
Wellness & Exercise Science

Baseball - 4

Name

Year

Hometown/High School

Major

Josh Eastman
Jr.
Edgerton, Wis./Edgerton
Health, Wellness, & Recreation
Lucas Kahl
So.
Walworth, Wis./Big Foot Union
Accounting/Marketing
Daniel Karnick
So.
Winona, Minn./Cotter
Accounting/Business
Joey Kilsdonk
Sr.
Appleton, Wis./Kimberly
Criminal Justice

Men's Golf - 3

Name

Year

Hometown/High School

Major

Christian Armas
Sr.
Richmond, Texas/Houston Christian
Sports Marketing & Management
Alex Beck
Sr.
Maquoketa, Iowa/Maquoketa
Marketing
Anders Haukoos
So.
Lakeville, Minn./Lakeville
Business Admin.

Men's Tennis - 3

Name

Year

Hometown/High School

Major

Dishon Deering
Sr.
Winter Spring, Fla./Winter Spring
Criminal Justice
Andrew Drummond
So.
Joliet, Ill./Joliet West
Flight Ops./Aviation Management
Nikolay Gospodinov
Jr.
Mons, Gelgium/SHAPE
Accounting/Computer Info Systems
The complete Iowa Conference All-Academic List can be found at: IIAC - All-Academic
Stay up-to-date with all UD Athletics on Twitter at: @UDubuqueSports