Spartans Place 13 on MWLC All-Academic Team
Jun 17, 2014 | J.Crane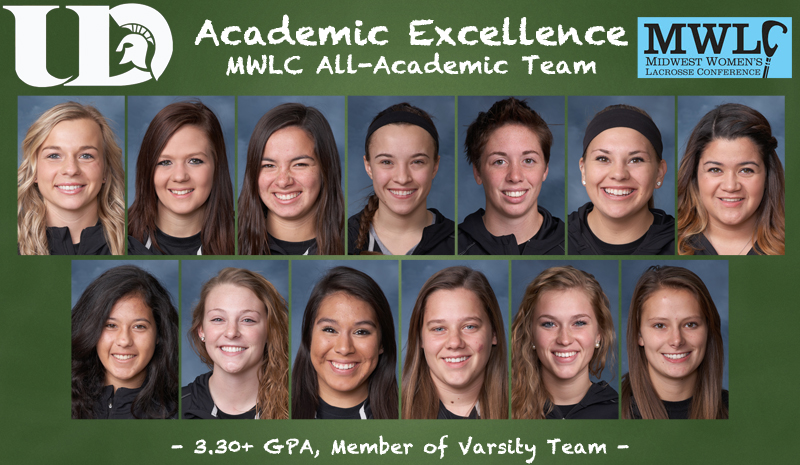 WAUKESHA, WISCONSIN - A total of 89 Student-Athletes were named to the 2014 Midwest Women's Lacrosse Conference (MWLC) All-Academic Team. The University of Dubuque and Augustana College tied with a league best 13 recipients. To be named to the MWLC All-Academic Team, the student-athlete must have a cumulative grade point average of 3.30 and be a member of the varsity team.
The 2014 Spartans finished the season with a 4-11 overall record and 2-8 record in the MWLC. The highlight of the season came when UD put together a four game winning streak with victories at Fontbonne (18-11), vs. University of Dallas (13-8), vs. Benedictine (11-6), and at Illinois Tech (20-5). All-Academic selection Bridget Schirmers led the Spartans in scoring with a school record 48 goals. Judy Borah had a team high 10 assists. Ashley Geraghty was named to the MWLC All-Sportsmanship Team.
Beginning in the spring of 2015, UD will compete in the College Conference of Illinois and Wisconsin (CCIW). Current MWLC members Augustana, Carthage, and North Central will be joining the Spartans in the move to the new created Women's Lacrosse Conference. Rounding out the six team league are first year programs Elmhurst and Illinois Wesleyan. Carroll University is scheduled to join the CCIW in 2016.
University of Dubuque Women's Lacrosse - 13

Name

Year
Hometown/High School

Major (s)

Cassandra Berger
Jr.
Waukon, Iowa/Waukon
Accounting
Brooke Crossen
Fr.
Madison, Wis./Oregon
Wellness & Exercise Science
Alora Esparza
Fr.
Silvis, Ill./United Township
Nursing
Ashley Geraghty
So.
Palatine, Ill./Palatine
Accounting/Business
Chelsea Hawkins
Jr.
Maryland Heights, Mo./Pattonville
Criminal Justice
Ashlyn Ptasienski
Fr.
Stillman Valley, Ill./Stillman Valley
Nursing
Itzel Rivera
Fr.
Fort Knox, Ky./Fort Knox
Wellness & Exercise Science
Lisa Rosas
So.
Arcadia, Wis./Arcadia
Business
Bridget Schirmers
So.
Coon Rapids, Minn./Coon Rapids
Wellness & Exercise Science
Jessi Tapia
Fr.
Hampton, Ill./United Township
Psychology
Kelly Wetherald
So.
Homer Glen, Ill./Lockport Township
Nursing/Psychology
Robyn Wittkopf
Fr.
Pewaukee, Wis./Arrowhead
Nursing
Anna Yackshaw
Fr.
Clinton, Iowa/Prince of Peace
Flight Operations
The complete list of all 89 winners can be found at: MWLC All-Academic
Stay up-to-date with all UD Athletics on Twitter at: @UDubuqueSports