Rutenbeck Named 2015 Small School Prospect
Jul 7, 2014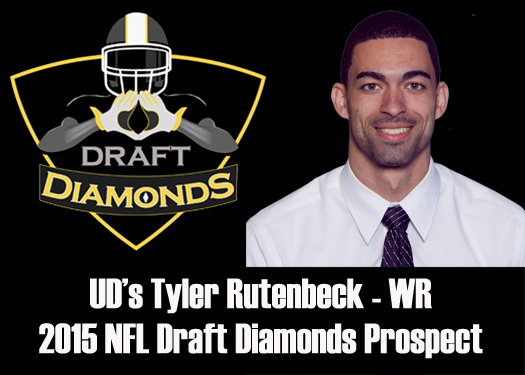 DUBUQUE, Iowa - The University of Dubuque's returning All-American receiver Tyler Rutenbeck (Sr., WR, 6-4, 186 lbs., Maquoketa, Iowa) has been selected among the 2015 Small School Prospect List on nfldraftdiamonds.com pre-season list. He is also mentioned on nfldraftscout.com for the Spartans.
Rutenbeck led the Spartans with 68 catches for 1,269 yards for an average of 18.7 yards a catch. He started in all 10 games and finished with 22 touchdowns and led the Spartans with 132 points last season.
He returns on a team, which led the IIAC in scoring in 2013 with 34.9 pts. a game, the Spartan offense is looking forward to 2014 with a chance to improve on that number and finish with an IIAC title. The Spartans will take the field in 2014 with plenty of returning experience and program players on the offensive line, the Spartans hope to combine the experience upfront with the skill on the perimeter to help ease the transition of an entirely new offensive backfield.
Defensively the Spartans return nine starters from the 2013 team of which four players garnered All-IIAC recognition. The group is led by 2013 First Team All-IIAC linebacker Blaine Snitker (Jr., Waukon, Iowa). He led the Iowa Conference is tackles as a sophomore. The rest of the linebacking corps will include returning starter and captain Trevor Stauner (Jr., South Milwaukee, Wis.), Chad Sadowski (Jr., South Milwaukee, Wis.) Jim McHugh (Sr., Oswego, Ill.) and promising freshmen Austin Rumer (Fr., Holiday, Fla.), Mason Matesevic (Fr., Plainfield, Ill.), and Larry Harrelston (Fr., Racine, Wis.). UD's defense returns players who have started 143 career games for the Spartans. Experience, along with the key additions of promising freshmen, looks to propel UD to a successful season in 2014