Dobratz and Zurbuchen Honored as All-Academic
Jul 23, 2014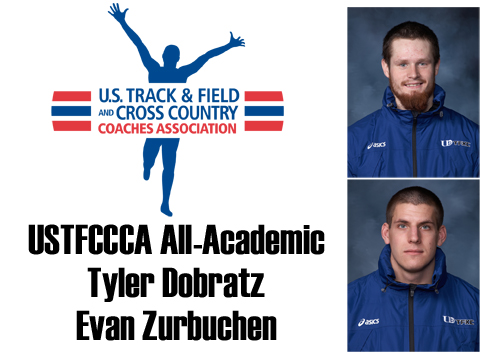 NEW ORLEANS, La. – The University of Dubuque men's track and field team was honored by the the U.S. Track & Field and Cross Country Coaches Association (USTFCCCA), today with Tyler Dobratz and Evan Zurbuchen being named by the association announced as All-Academic. A total of 276 men from 100 institutions earned USTFCCCA All-Academic honors for their combined academic and athletic accomplishments in 2013-14.
To qualify for the USTFCCCA All-Academic Track and Field Team, the student-athlete must have compiled a cumulative grade point average of 3.30 and have met either of the following athletic standards:
Competed in an NCAA Indoor or Outdoor Championship
Finished the regular season ranked in the national top 35 in an individual event or ranked in the national top 25 (collective listing) in a relay event on the official NCAA POP list provided by TFRRS.org
Evan Zurbuchen (Hollandale, Wis./Madison West) brought home three all-conference medals including a victory in the 400m Hurdles, third place finish in the 110m Hurdles, and runner-up honors on the 4x100 relay. His time of 53.13 in the 400m Hurdles set a new Iowa Conference Championships record and broke the school record by 1.15 seconds. He is one of three student-athletes to qualify in both events. He has a 3.66 cumulative GPA in aviation management at UD.
Tyler Dobratz (Edgerton, Wis./Edgerton) won the decathlon on at the 2014 IIAC Outdoor Championships with a school record 6,155 points which was the 30th best score in Division-III in 2014. Dobratz won the decathlon title behind strong performances in the 100m Dash (750 points), 110m Hurdles (720 pts.), and long jump (693 pts.). Dobratz won by 142 points behind first place finishes in the shot put and discus. He finished in the top five in all ten events en route to breaking his own school record with 6,155 points. The Spartans junior was the runner-up at the 2013 Outdoor Track Championships at Loras. Dobratz maintains a 3.72 cumulative GPA in wellness & exercise science.