Spartans Share Love of American Football with Frenchman
Aug 16, 2014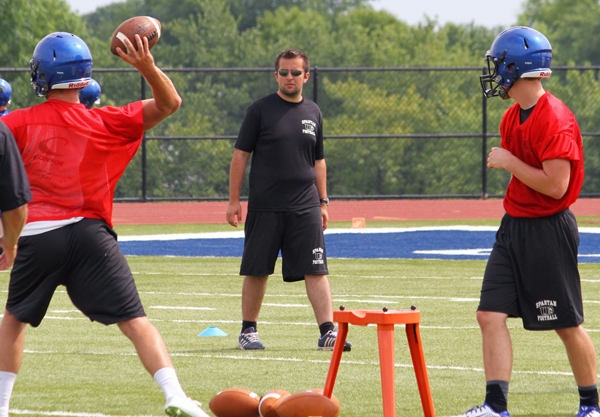 DUBUQUE, Iowa – The University of Dubuque football team will have a special guest on the sidelines when they return to practice this week. Joining the Spartans on the sideline is special guest coach from the Touluse Bears team in France. The Spartans traveled abroad this spring and played the Bears, sharing American football with thousands of fans in France. Florian Perget (offensive coordinator) was so impressed with the University of Dubuque football team he made plans to join them for pre-season camp this week.
"What has struck me the most is the discipline, how well they execute, and how focused the team is on the field when they play," commented Perget. "It's an amazing experience to see how real American football is played. All our club members are unpaid and play on their spare time for the love of the game."
NCAA Division III is very similar in that the student-athletes compete not with athletic scholarships, but enjoy the competitive collegiate atmosphere purely for the love of the game.
The Toulouse Bears were founded in 1986 is one of the oldest American Football teams still running in France. American Football was introduced to France by Larent Plegelatte in 1980, he was a physical education teacher who discovered the sport during a trip to Denver, Colo.
He brought back with him 24 pads, helmets, and jerseys which he used to train in Vincennes. He formed the first French team in 1981, the Paris Spartacus. The first championship was held in 1982 and it grew to six teams by 1983. The Federation Francaise of Football Americain (www. FFFA.org) now has over 500 licensees shared among football, flag football, and cheerleading in France.
"Finding funding in France is hard, especially in Southern France, where you have to compete against rugby as the major sport," added Perget. "The sport of American Football has grown to also include a senior female football team in 2014. My experience here will be invaluable and I look forward to bringing the added coaching experience back to France to improve our team as a whole."
The Spartans travel abroad every four years to share American Football with other countries. This year UD traveled to various sites around Barcelona, Spain and capped off their trip with a 77-0 victory over the Toulouse Bears in France. In previous trips abroad, the Spartans competed in Italy and Germany.
The Spartans entered pre-season camp with over 140 student-athletes. UD finished 5-5 last season and tied for 3rd place in the IIAC. The football team is honored to have five Spartans named to the 2014 USA College Football Pre-Season Division III All-American list for this fall. Tyler Rutenbeck (Sr., WR, Maquoketa, Iowa) 1st Team Offense, Dominique Ravenell, (Sr., OL, Forth Worth, Texas) 1st Team Offense, Blaine Snitker (Jr., LB, Waukon, Iowa) 2nd Team Defense, Vincent Whipple (Sr., DB, Eagle Grove, Iowa) 3rd Team Defense, and Reggie Cole Jr. (Jr., DB, Milwaukee, Wis.) Honorable Mention Defense.
The Spartans opening contest is against the UW-La Crosse Eagles on Sept. 6 at 6:00 p.m. on Chalmers Field.