Rutenbeck Named to 2014 Dream Bowl Pre-season All-American
Aug 22, 2014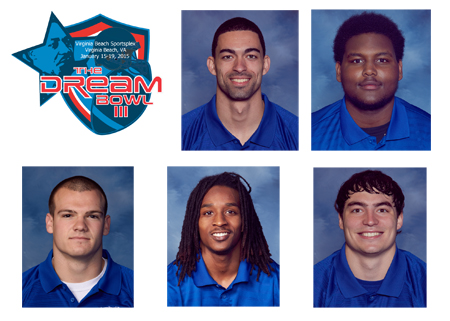 VIRGINIA BEACH, Va. - Optimum Scouting and Cutting Edge Sports Management is proud to announce the University of Dubuque's Tyler Rutenbeck (WR) named to the 2014 Dream Bowl D-III Preseason All-American team along with the four other Spartans named to Iowa Intercollegiate Athletic Conference Preseason All-Conference team. Joining Rutenbeck is teammates Dominique Ravenell (OL), Blaine Snitker (LB), Reggie Cole Jr. (DB), and Vincent Whipple (DB).
The Dream Bowl is the premier small college all-star game in the country and will be played during MLK weekend January 19, 2015. All senior athletes on these select teams (with no additional eligibility) have the opportunity to be a part of Dream Bowl III and the NFL/CFL Combine in Virginia Beach. Scouts from both leagues will be conducting the combine to certify the results.

We will be sending invitations to the players through the school sports information directors and the coaches. Coaches may also recommend players to CESM and Optimum Scouting throughout the season. Players should submit highlight films and contact information through the websites of both companies. Optimum Scouting is offering to all of the Dream Bowl players a full scouting report with career statistics, highlights, and combine results. With their connections to NFL and CFL scouts, The Dream Bowl & Optimum Scouting provides the small college athlete a true opportunity to be evaluated and noticed by professional teams.
2014 Dream Bowl Preseason All American Team
| | | | |
| --- | --- | --- | --- |
| Position | Name | College | Year |
| QB | Kevin Burke | Mount Union | Sr |
| RB | Domonique Hayden | Thomas More | Sr |
| RB | Cartel Brooks | Heidelberg | Sr |
| WR | Tyler Rutenbeck | Dubuque | Sr |
| WR | Jake Kumerow | UW-Whitewhiter | Sr |
| TE | Michael Long | Mulenburg | Sr |
| OL | Rance Hightower | Maryville | Sr |
| OL | Lucas Skibba | UW-Whitewhiter | Sr |
| OL | Spencer Clark | Wheaton (Ill) | Sr |
| OL | Chris Brinkmeier | Wartburg | Sr |
| OL | Ali Marpet | Hobart | Sr |
| DL | John Worley | Illinois Wesleyan | Sr |
| DL | Tyre Coleman | Hobart | Sr |
| DL | Ben Poirier | Heidelberg | Sr |
| DL | Cody Buresh | Wabash | Sr |
| LB | Sosthene Kapepula | Wesley | Sr |
| LB | Frank Gaffney | Lebanon Valley | Sr |
| LB | Jacob Zilbar | UW-Stout | Sr |
| DB | Tanner Troutman | Lycoming | Sr |
| DB | Thurgood Dennis | UW-Eau Claire | Sr |
2014 Dream Bowl Preseason All IIAC Team
| | | | |
| --- | --- | --- | --- |
| Position | Name | College | Year |
| QB | Bobby Brown | Buena Vista | Sr |
| RB | Josh Osborn | Central | Sr |
| RB | Josh Vos | Luther | Sr |
| WR | Tyler Rutenbeck | Dubuque | Sr |
| WR | Jalen Henningsen | Buena Vista | Jr |
| TE | Adam Cave | Buena Vista | Sr |
| OL | Lathan Bass | Coe | Sr |
| OL | Dominque Ravenell | Dubuque | Sr |
| OL | Chris Brinkmeier | Wartburg | Sr |
| OL | Corey Meyer | Simpson | Jr |
| OL | Casey Krull | Wartburg | Sr |
| DL | Clay Finley | Simpson | Sr |
| DL | Johnnie Sims | Simpson | Sr |
| DL | Will Tumberger | Loras | Sr |
| DL | Tyler Carpenter | Luther | Sr |
| LB | Drew Kooi | Wartburg | Sr |
| LB | Blaine Snitker | Dubuque | Jr |
| LB | Aric Elton | Luther | Jr |
| DB | Eric Larson | Central | Sr |
| DB | Reggie Cole | Dubuque | Jr |
| DB | Spencer Capitani | Wartburg | Sr |
| DB | Vincent Whipple | Dubuque | Sr |
| K/P | Kevin Sheldon | Central | Sr |