Berna Achieving Success with Spartans #22-ranked Soccer Team
Sep 11, 2014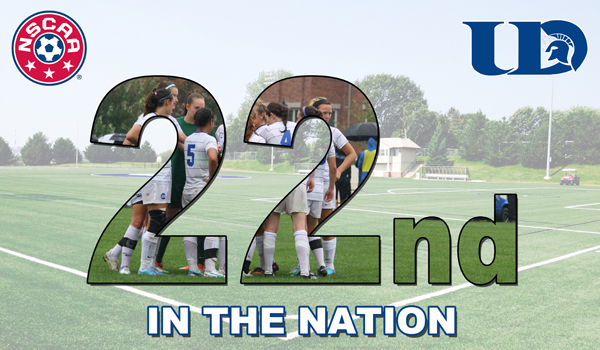 DUBUQUE, Iowa – The University of Dubuque women's soccer team achieved a level of success Head Coach Jason Berna has been striving for since he started the varsity program for the Spartans in 2001. Wednesday morning the Spartans earned their first ever, national ranking in Division III when the National Soccer Coaches Association of America (NSCAA) released their Sept. 9 poll with the Spartans ranked #22 nationally. UD also earned their highest regional ranking with a #2 ranking in the North Region.
The Spartans team with Berna loading up a scoreboard in the back of his vehicle and driving out to the Dubuque soccer complex to compete in the early years is just a distant memory compared to the multi-million dollar facilities and the recently renovated Mondo Synthetic Turf playing surface of Oyen Field the Spartans compete on today.
Berna is just five wins away from his 200th coaching victory at UD. The three-time, All-Iowa Conference selection has shared his skills with the many young men and women he has mentored over the past 13 years. He coached both men's and women's team until 2008 when he stepped from the men's program to focus his energy into making the women's team a national powerhouse. He entered the women's season with 137 wins and has a perfect 6-0 mark to begin the 2014 season for the Spartans. During his tenure, the Spartans have qualified for 10 consecutive Iowa Conference Tournaments and have qualified in 11-13 attempts.
"Every season there is an unspoken rule that you want to improve upon your last," commented Berna. "Six games in, we have matched the perfect record from last season at 6-0, but set the bar higher in new categories. In the second ranking of the season, we have moved up to #2 in the central region and #22 in the national ranking – both program firsts. Our team has five shutouts while finding the back of the net two or more times each match. "
As the Women's Coach, he has coached: 42 All-Iowa Conference athletes (22-First Team/20-Second Team), 5 All-Region performers, 2 Conference MVP and 52 Academic All-Conference student-athletes. He has always pushed his teams to not only do well on the field, but in the classroom. The women's program has received team academic awards from the NSCAA in 2006, 2008, 2009, 2010, 2011, and 2012 for having above a 3.0 team GPA as a team.
Berna added, "We are very excited for what lies ahead with three very tough opponents (two of them being ranked in the region). One at home, and two on the road, as we feel these next three games will be major tests to be ready for the tough conference matches ahead."
Berna also serves as the Dubuque Soccer Club administrator and as an Iowa Olympic Development State Staff coach for the past five years.
Click here for NSCAA National Rankings