Men and Women's Tennis Teams Rout Bethany Lutheran
Sep 13, 2014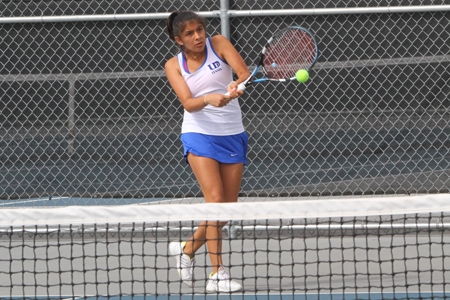 DUBUQUE, Iowa – It was a successful debut for the University of Dubuque men's tennis team and an equally impressive home rout for the women's tennis team as they both gain victories over Bethany Lutheran, 8-1.
Freshman Arantxa Martinez anchored the women's team once again with a routine 6-0, 6-0 rout in the No. 1 slot. She is now 5-0 in singles to start her collegiate career and doesn't appear to be slowing down anytime soon. Martinez later paired with teammate Ashley Schlueter in a convincing 8-1 doubles win.
On the men's side, their lone loss came by the score of 8-6 in doubles play by the freshman nucleus of CeeJay Schaffner and Jordan Hamling. Schaffner also won a nail-biter in the No. 4 slot with his singles triumph over Carter Dahl by the score of 6-4, 6-7, 10-8. The only other troublesome match was at No. 1 doubles when the senior/freshman pair of Nikolay Gospodinov and Ranfer Hernandez just scraped by, 9-8.
The men will be put to the test at the IIAC Individual Tournament this Friday, September 19th. The women square off at Farber Courts versus Luther this Tuesday, September 16th at 4:00 p.m.