Spartans Football Fall Short Against #8-ranked Pioneers
Sep 13, 2014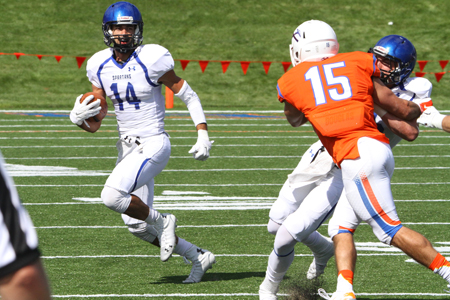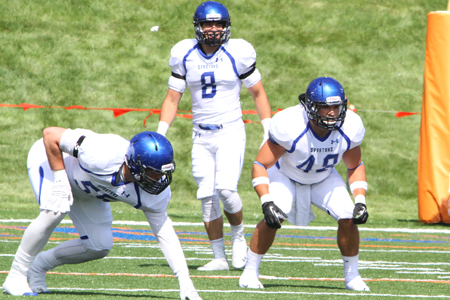 PLATTEVILLE, Wis. - The University of Dubuque Spartans football team displayed the type of football this team is capable of on Saturday in a hard fought 21-26 loss to #8-ranked UW-Platteville on their home turf. It was a mad scramble this week to get the artifical turf field playable after a summer EF2 tornado had caused severe damage to the stadium and campus of UW-P. Saturday showcased two quality programs which fought down to the last seconds in front of a large crowd of 5,389 at Pioneer Stadium.
The Spartans defense once again proved why every team this season will be hard pressed to score against the staunch play in 2014. Vincent Whipple (#8) and Blaine Snitker (#48) pictured above combined to lead the Spartans defense with 11 solo and seven solo tackles respectively for UD. The Spartans combined to end the day with six tackles for losses against a potent Pioneer offense which put up 63 points in their season opener. On Saturday UD held them to 26 points and 476 yards of total offense. UD's offense was once again hampered by three fumbles and a interception, of which the Spartans would lose just one possession. UD never scored on the day in the red zone, all three scores were beyond the 27 yard line. Tyler Rutenbeck (#14 pictured top) led all receivers on the afternoon with nine catches for 162 yards and two touchdowns. He scored his first on a 31 yard strike from Zach Fry at 11:18 of the second quarter. UD sliced the Pioneer lead to just three points at 4:16 when Alec Arvanitakis brushed off defenders en route to a 27 yard scamper from the left side to cut the lead 14-17. As time expired in the first half, UW-P added a 34 yard field goal to saunter into halftime leading by six points, 20-14.
The host Pioneers tossed a 30 yard touchdown strike at 11:47 left on the third quarter to extend their lead to 26-14. Spartan defense held UW-P in check for mst of the final quarter when UD's offense would once again find Rutenbeck in the endzone on a 42 yard pass from Fry, once again making the game within a touchdown 21-26. The Pioneers kept the ball in the final three minutes and held on for the Battle of the Bridge victory over the Spartans.
UD finished the day with 351 yards of offensewith Fry completing 19-31 attempts for 251 yards and two scores. Arvanitakis led the Spartan ground attack with 19 rushes for 100 yards and a touchdown. Chris Bagley grabbed four passes for 55 yards. Mitch Michaelis punted four times for 141 yards (35.2 average) and Brayden Neuendorf kicked off four times for 230 yards (57.5 average). Oscar White returned four kick-offs for 55 yards with his longest being a 19 yard return.
The Spartans return to Chalmers Field next Saturday, Sept. 20 at 6:00 p.m. vs. Pacific University (Ore.) before enjoying a weekend off on Sept. 27. The Spartans open Iowa Conference action on Saturday, Oct. 4 in Decorah against the Luther College Norse at 1:00 p.m.