Spartan Volleyball Handled by No. 20 Coe
Sep 17, 2014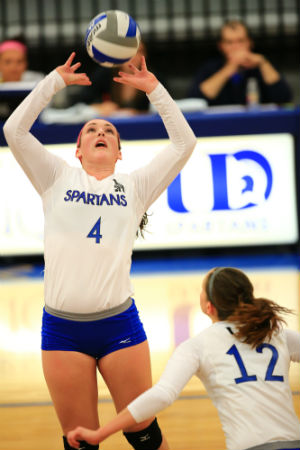 DUBUQUE, Iowa – The University of Dubuque volleyball team couldn't hang with No. 20 Coe after a competitive first set and drop their Iowa Conference opener, 3-0 (25-19, 25-17, 25-16).
The Spartans (4-10) left themselves with an uphill battle after falling behind early, 6-1. They managed to claw their way back after a 6-point run reduced the margin to 10-12. Four straight errors by the Spartans gave Coe (12-2) the breathing room they needed to gain the set win. A few miscues aside, the Spartans could have taken set one after posting a solid .257 attack percentage.
Coe would sprint out to a 4-1 lead in the second while the Spartans managed to keep it close. The Kohawks held the lead at 11-9 and broke the game open with a quick 3-point run. The lead never dipped below four points on the way out as Coe took set two.
Another quick start for Coe in the third, 6-1, doomed the Spartans. They would pull to within two but never got closer than five points as Coe eventually closed out the match.
Klaudia Basierak had a game-high 13 kills while Hannah Zieser tallied 29 assists.
The Spartans travel up north to Ripon, Wis. for the Ripon Red Hawk Invitational tournament starting on Sept. 19th at 5:00 p.m.
Click here for Ripon Red Hawk Invite Results and Tournament Page