Meeker Clutch in Riveting 3-2 Victory for Women's Soccer team
Sep 24, 2014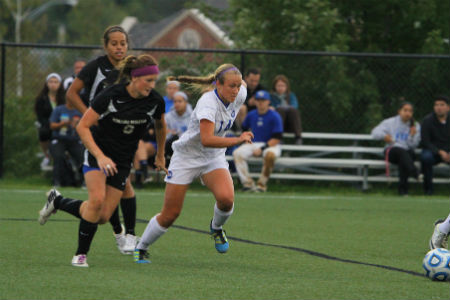 DUBUQUE, Iowa – Emily Meeker struck gold off of Liz Frazier's free kick in the 89th minute as the University of Dubuque women's soccer team tripped up Nebraska Wesleyan by the narrow score of 3-2.
The Spartans (7-3) stayed aggressive and countered an 88th minute Nebraska Wesleyan goal that tied it up at the time, 2-2. A late foul would cost the Prairie Wolves (4-3-1) as it set up the Frazier-to-Meeker connection.
Prior to the game-winner it was a lopsided second half in favor of UD as they outshot the Prairie Wolves 12 to three and accumulated three corner kicks as well. Opportunities were abundant for the Spartans but Nebraska Wesleyan goalie Madi Francis doubled as an escape artist in the box.
In the 66th minute, Frazier launched a bending free kick just outside the box that Francis dived for and knocked away with outstretched arms. The Spartans managed to break through after Megan Siepler netted her fifth goal of the season in the 70th minute off a Kyleigh McLaughlin assist. Unfortunately, Brianna Burkhart's 81st minute shot hit the crossbar and Meeker's rebound was caught by Francis who teetered on the goal-line between in-and-out. It didn't count as a goal and Francis lived to fight another day.
It was a bit more even in the first half despite McLaughlin's goal just five minutes into the game gave them an early 1-0 lead. Kelsey Graefen missed a rare penalty kick opportunity in the 19th minute off the post and Nebraska Wesleyan countered in the 21st minute. They would end the first half tied 1-1.
This is the Spartans second straight win over Nebraska Wesleyan. They won their last meeting 2-0 in 2008 and are 2-1 overall against the Prairie Wolves.
The Spartans will open up IIAC play on the road this Saturday, September 27th at 4:30 p.m. against Buena Vista.