Martinez a Perfect 9-0 as Women's Tennis Falls to Coe
Sep 25, 2014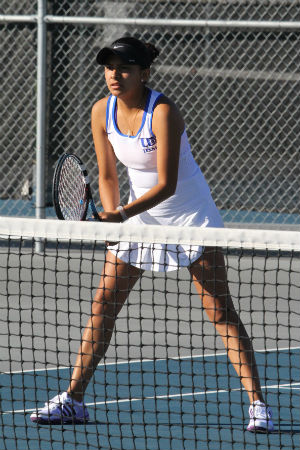 DUBUQUE, Iowa – The University of Dubuque women's tennis team lost to Iowa Conference (IIAC) Champion Coe, 8-1, but got an impressive performance out of Arantxa Martinez as she defeated Coe's No. 1.
Martinez jumped all over Coe's Haley Resnick from the outset and never looked back as she gained her ninth singles victory of the season, 6-1, 7-5. Resnick came into the match with an 8-0 record on a Coe team that won their fourth straight IIAC Team Championship and 30th regular season IIAC match. It was a battle for the top freshman in the conference and could be a championship preview heading into the IIAC individual tournament on October 3-4.
Martinez has dropped just one set all year and is on the verge of breaking the UD record of singles wins in a season, 14, held by current doubles partner Ashley Schleuter.
Schleuter and Martinez also stayed competitive in No. 1 doubles but couldn't hang on as they fell, 8-3.
Next up on the docket is Buena Vista on the road at 9:00 a.m. on September 27th. Buena Vista sits right below the Spartans in the IIAC Conference standings and is winless in six IIAC bouts.