Volleyball Team Splits a Pair on First Day of IIAC/NACC Challenge
Sep 26, 2014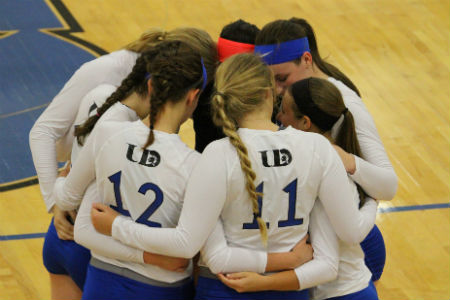 MILWAUKEE, Wis. – The University of Dubuque volleyball team saw both sides of the coin tonight as they beat Wisconsin Lutheran handedly, 3-0, and fell to Aurora University, 3-0, in the first day of the IIAC/NACC Challenge.
The IIAC/NACC Challenge pitted the IIAC's Buena Vista, Central, UD, and Simpson against their counterparts in the NACC: Aurora, Concordia (Wis.), Marian, and host Wisconsin Lutheran. The remaining eight school squared off at Loras College. Every Iowa Conference school plays every Northern Athletics school once for a total of four matches each in the two-day challenge.
The IIAC was well represented as they boasted a 13-3 record through day one. Just four more victories will secure the IIAC/NACC Challenge win.
Game One
Aurora University 3, University of Dubuque 0 | (25-16, 25-13, 25-17)
Box Score
It was tough sledding from the get-go as Aurora University (14-5) pulled away after an early first set tussle that featured four ties and three lead changes. The Spartan attack struggled as it mustered up a .098 kill percentage in the absence of kills leader and offensive catalyst, Klaudia Basierak. It was a similar story in set two as UD (8-13) beat itself by posting a -.050 kill percentage that included 12 errors. The defense came alive in the third after holding Aurora to a .133 kill percentage but couldn't overcome their offensive woes. UD assist machine, Hannah Zieser, was the unorthodox leader in kill percentage for the Spartans.
The Spartans hit .025 for the match against Aurora's .204. They are still seeking their first win against Aurora University after six total matches.

Team Leaders
Assists: 25-Hannah Zieser | Digs: 17-Amanda Reetz | Kills: 8-Amy Tranel | Blocks: 2-Tranel
Game Two
University of Dubuque 3, Wisconsin Lutheran 0 | (25-20, 25-17, 25-23)
Box Score
It was night and day for UD as their offense jolted back to life in the nightcap against winless Wisconsin Lutheran (0-10) thanks to a trio of freshman (Lauren Egnarski, Karrah Davis, Alyssa Cose) and one seasoned vet (Amanda Reetz). UD's biggest hurdle was clearing set one and they did so with a much improved .179 kill percentage. It was quite the display as they accomplished this without the services of assists leader, Zieser, and kills leader, Basierak, for the second straight match.

They cleared set two with a stout defense that forced Wisconsin Lutheran into a -.027 kill percentage. The Spartans saved their best for last (.184 kill percentage) as they squeaked by after nine ties and three lead changes.
UD avenged their 0-3 loss to the Warriors in 2010 and improved the series record to 1-2.

Team Leaders
Assists: 27-Cose | Digs: 13-Kristin Wright | Kills: 9-Egnarski | Blocks: 2-Anna Runge/Rachel Schoepke
The Spartans face off against Marian at 10:00 a.m. and Concordia (Wis.) at noon tomorrow.