First Half Fireworks Spark Men's Soccer Win
Sep 27, 2014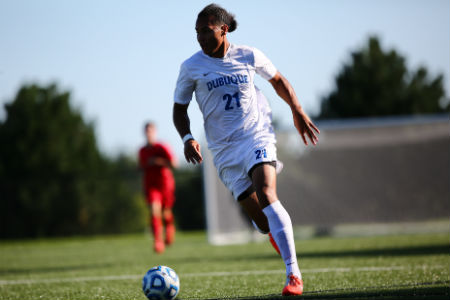 STORM LAKE, Iowa – Six combined goals were scored in the first half as the University of Dubuque Men's Soccer team scored four of those en route to a 4-2 win over Buena Vista in their Iowa Conference opener.
The Beavers (4-4-1, 0-1 IIAC) struck quickly with a successful penalty kick five minutes into the game. UD (3-5-2, 1-0) proceeded to score four unanswered goals between the 19- and 31-minutes of the first half. It was a team effort as three of the four goal scorers also tallied an assist. Billy Belmonte, Leo Lenth, and Brandon Wiley doubled as distributors while Gonzalo Hernandez posed as the lone outlier. The Beaver's goal at the 36-minute mark wound up being the last score of the game.
Scoring halted in the second half but it was not due to lack of opportunity. UD attempted nine shots to Buena Vista's five with Spartan GK Riley Jensen and his Beaver counterpart saving three shots each.
UD narrowly outshot Buena Vista throughout the match, 16-12, and doubled the Beavers' saves, 6-3.
It was the Spartans eight-straight win over the Beavers and improved their record to 8-3-3 in the series. UD gave up more goals in this game then they have in the last six games combined.
Next up for the Spartans is a cross-town visit to rival Loras College this Wednesday, September 27th at 7:30 p.m.