Martinez On a Roll as Women's Tennis team Secures First IIAC Win
Sep 27, 2014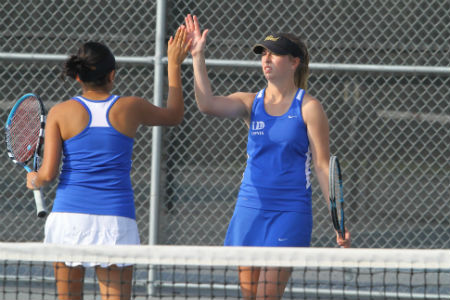 STORM LAKE, Iowa – Arantxa Martinez continued to rack up the wins and moved to 11-0 on the season as the University of Dubuque women's tennis team defeated both Buena Vista, 7-2, and Grandview, 5-4.
The Spartans (4-7, 1-5 IIAC) took care of Buena Vista with ease as Martinez (No. 1) and seniors Ashley Schleuter (No. 2) and Steph LoCasto (No. 3) each won their singles matches handedly. Martinez and Schleuter also grabbed another win in their No. 1 doubles match. Buena Vista (0-10, 0-7 IIAC) did not field a complete team and helped the Spartans out with three forfeits. Nevertheless, the Spartans were 4-2 in the matches that were played.
UD had to earn every bit of their hotly contested win over Grandview (2-2). Martinez dropped her second set of the year in a three-set grind-it-out match against Natalia Romero, 7-6, 2-6, 6-3. Schleuter and LoCasto took care of business in the No. 2 and No. 3 slot once again. LoCasto won by the skin of her teeth, 6-4, 6-4. The doubles teams of Martinez/Schleuter and LoCasto/Taylor Fortmann nabbed the final two wins by the scores of 8-4 and 8-6, respectively.
The Spartans host Central on Tuesday afternoon at 4 p.m. on September 30th followed by the IIAC Individual Tourney on October 3 - 4. Martinez will be the first woman in UD history to enter the tournament undefeated in singles play.