Spartan Volleyball Wins One of Two Lopsided Affairs at IIAC/NACC Challenge
Sep 27, 2014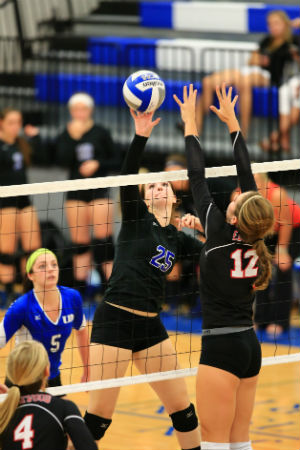 MILWAUKEE, Wis. – The University of Dubuque Volleyball experienced both sides of the coin as they beat Marian University, 3-0, and lost to Concordia (Wis.), 3-0, in the final day of the IIAC/NACC Challenge.
The Iowa Conference had no trouble handling the Northern Athletics Conference after totaling 23 wins in 32 matches. The Spartans finished 2-2 over the two days after splitting a pair of games on Friday.
Game Three
University of Dubuque 3, Marian University 0 | (25-13, 25-20, 25-19)
Box Score
The Spartans became more efficient as the match wore on posting kill percentages of .156, .235, and .310 in successive sets. The pair of seasoned vets, Amy Tranel and Amanda Reetz, led the charge as they hit .412 and .417, respectively. Even without the services of team kills leader Klaudia Basierak and team assists leader Hannah Zieser, the Sabers had no answer as they tallied a mere one block on defense.
The Spartans allowed Marian to hit just .117 with 14 total assists. They improved their overall record against Marian to 4-1.
Team Leaders
Assists: 40-Alyssa Cose | Digs: 18-Kristin Wright | Kills: 9-Karrah Davis | Blocks: 3-Anna Runge
Game Four
Concordia University (Wis.) 3, University of Dubuque 0 | (25-20, 25-16, 25-20)
Box Score
Another slow start doomed the Spartans after they hit .065 in set one. They stayed in it, but Concordia (Wis.) rolled their momentum into set two and took over from there by hitting .333. Over the course of the match four Concordia (Wis.) players hit .261 or better and they hit .246 as a team. The Spartans were held to a .115 kill percentage but got a solid performance from Reetz. She shouldered the load in the absence of Basierak, and led the team in kills, attack attempts, and digs.
UD drops to 2-6 all-time versus Concordia (Wis.) with their last win coming in 2006 by the score of 3-0.
Team Leaders
Assists: 24-Zieser | Digs: 11-Reetz | Kills: 10-Reetz | Blocks: 3-Anna Runge/Tranel
The Spartans take on IIAC opponent, Luther College, on the road at 7:30 p.m. this Wednesday, October 1st.