Spartan Women's Soccer Hold Beavers Scoreless
Sep 27, 2014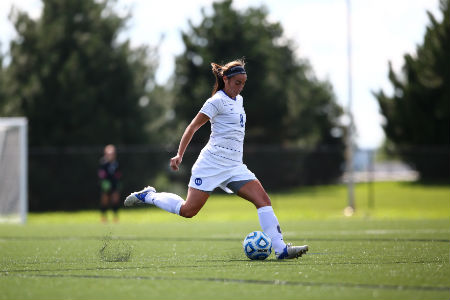 STORM LAKE, Iowa - The University of Dubuque women's soccer team earned their sixth shut-out of the season on Saturday after taking the contest over the Buena Vista University Beavers 3-0. UD led 1-0 after the opening period after a goal by Megan Siepler in 35:28, the Spartans extended their led to 2-0 just three minutes into the second half when Melanie Prudhomme scored at 48:52. Katie Lynn added a third Spartan goal at 60:51.
The trio of Spartans combined for 19 shots and six shots on goal as 11 Spartans had a shot in the victory. Those who finished with a shot were: Siepler (7), Prudhomme, Lauren Waddel, Emily Meeker (3), Kelsey Graefen, Lynn (6), McLaughlin (6), Melissa Sawyer, Liz Frazier (3), Lisa Rosas, and Brianna Burkhart. lThe Spartans out shot the Beavers 31-3, and UD's defense held the Beavers to without a shot on goal in the Iowa Conference opener for both squads. UD led in corner kicks 10-0. The Beavers goalie was kept busy all night with 17 shots in the first half and 14 shots in the second half and eight keeper saves.
The Spartans (8-3 overall, 1-0 in IIAC) return to Dubuque to face the Loras College Duhawks (6-5 overall, 1-0 in IIAC) on Wednesday, Oct. 1 at the Rock Bowl with game scheduled for 5:00 p.m.