Martinez Battles to a Perfect Record in IIAC
Sep 30, 2014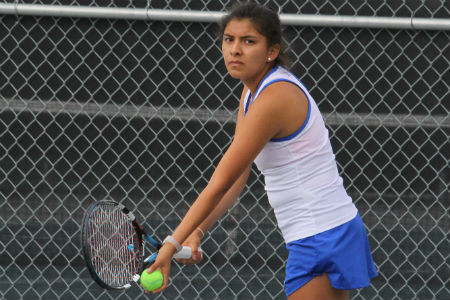 DUBUQUE, Iowa - The University of Dubuque Farber Tennis Courts were witnessed to a Spartan first on Tuesday afternoon. UD's Arantxa Martinez had a lone #1 singles match left in the regular Iowa Conference season. Unbeaten through six matches, she needed the victory to become UD's first #1 singles IIAC unbeaten women's regular season finisher. The win didn't come easy as she lost the first set 5-7 and was down 1-4 in second set.
As other matches concluded, all eyes were on center court and the hopes of a perfect conference season looked bleak for Martinez. She began to chip away at the deficit and force the Dutch competitor into unforced errors. Talking to herself in her native Spanish between points and slapping her thigh helped her re-focus. One set after another began to bounce in her favor and she rallied back to knot the match with a 7-5 victory in set two. She pushed the super tie break and jumped out to a 2-0 lead before Cemtral's Angie Allgood cut the lead 2-1. A split in next two points and match was 3-2. Martinez won the next and lost the following point, once again led by two 5-3. As fans cheered throughout the match, Martinez began to stretch the lead and captured the match 10-5 in the super tie break.
The finish was the Spartans first perfect season at #1 singles, Martinez (Fr., San Luis Potosi, Mexico/Instituto Technolgio y de Estudios Superi HS) improved her season to 12-0 overall and her #1 doubles season to 8-4 with doubles partner Ashley Schlueter (Sr., Hiawatha, Iowa/Kennedy HS). The pair captured the #1 doubles match against Central's Allgood/Megan Davis 9-7.
"My teammates are the best and so supportive of me, my coach too is always there for me," commented Martinez. Success as a freshman, playing thousands of miles from home has set the bar high for the future. "Going undefeated, I thought it would be hard, but I didn't expect it would be like this. I look to keep playing like this and try hard, it's all I can do."
First-year head women's coach Claudia Girladi added, "We have alot of work to do so I was looking to bring in strong players such as Arantxa. We are lucky to get her here and she is definitely a top player and we will continue to build around her. She works hard, gets along with her teammates well and is a good student-athlete. We will continue to bring in more like her."
The Spartans would collect just two wins against the Dutch losing the match 2-7. UD will play in the IIAC individual tournament beginning on Thursday in Pella.