Men's Soccer team Gives Valiant Effort in Narrow Loss to Rival
Oct 1, 2014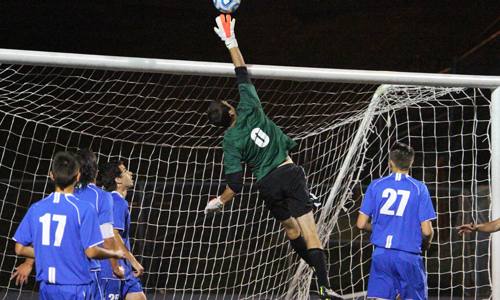 DUBUQUE, Iowa – The University of Dubuque men's soccer team gave up an own goal less than 10 minutes in as Iowa Conference rival Loras took the game, 1-0.
In an otherwise brilliant effort by Spartan goalkeeper Riley Jensen, his slight bobble off a corner kick just dropped in for the only scoring play of the game. The rest of the match he was a brick wall between the posts and saved nine of Loras' shots on goal. He stood up to 14 total corner kicks and 22 shots throughout the night in the unrelenting Loras (9-1-1, 2-0 IIAC) attack. To make matters worse, adversity reared its ugly head after a Spartan red card in the 53rd minute left them a man short for a majority of the second half.
With Jensen on the defensive it was Gonzalo Hernandez who gave the Spartans (3-6-2, 1-1) their best shot at a score early in the second half. He managed to unleash the cannon and rifled a shot off the post that harmlessly caromed away. He would finish the game with a team-high three shots.
The Spartan attack managed to keep it close despite totaling just four shots and three corner kicks on the night.
UD will face Coe College in the friendly confines of Oyen Field at 7:30 p.m. this Saturday, October 4th. "Kick for the Cure" will be the theme for the game as both the men and women raise awareness and support for breast cancer. Make sure to wear pink and participate in that day's silent auction.