Spartan Volleyball's Offensive Attack Stymies the Norse in First Conference Win
Oct 1, 2014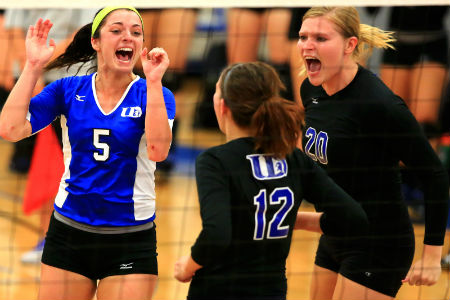 DECORAH, Iowa – Klaudia Basierak had 15 kills and the University of Dubuque volleyball team hit .228 en route to a four-set victory, 3-1 (26-24, 19-25, 25-23, 25-22), over Luther College.
The Spartans needed every bit of their offense right out of the gate in set one against the Norse (11-9, 1-2 IIAC). Multiple times UD (10-14, 1-2) found themselves in a seven-point hole late into the set. Thanks to a couple timely kills and some stout defense on the front line they roared back to take set one, 26-24. From there it was a no-go in set two (.114 attack percentage) but they squeaked by in sets three and four after hitting .297 and .243, respectively.
The Spartan defense held the Norse offensive to a .146 attack percentage throughout the match and with the help of Anna Runge, who had a game-high seven blocks, tallied 10 team blocks as well.
Hannah Zieser was a two-way threat after totaling 39 assists and four kills with an efficient .300 attack. The team leader in attack percentage, Amy Tranel, kept up her pace with a .467 percentage that included eight kills.
The Spartans evened up their all-time series record with Luther to 32-32. They broke a three-match losing streak to the Norse and won more sets tonight than they won during that same streak.
Next up is Simpson College, who comes to town next Tuesday, October 7th at 7:30 p.m. in Stoltz.