Spartans Unbeaten in IIAC After Loras Victory
Oct 1, 2014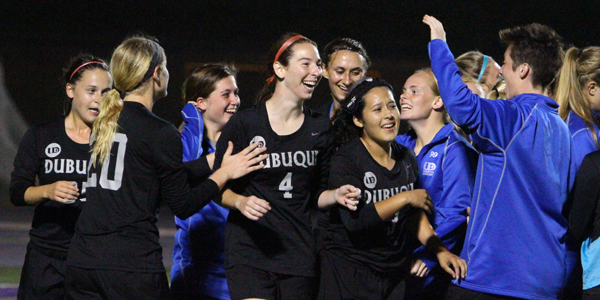 DUBUQUE, Iowa - The University of Dubuque women's soccer team scored first and held a lead throughout most of the game on Wednesday evening, but needed two overtimes to complete the exciting victory over the Loras College Duhawks at the Rock Bowl by a score of 3-2. The last time the Spartans captured regular season victory over Loras was Oct. 21, 2009 which was also the Duhawks last regular season IIAC loss. The series since 2009 has provided three, double overtimes games. In 2009, the Spartans won the IIAC Tournament and advanced into the NCAA Division III National Championships.
UD pounced on the Duhawks early when Liz Frazier scored at 5:12 off a corner kick. The Duhawks evened the score just prior to halftime at 1-1 when they scored off a header on a corner kick. A confident Jason Berna encouraged his team at halftime to keep attacking and the Spartans scored once again quickly to start the second half when Kelsey Graefen scored on a header off a corner at 59:15. As time in regulation was under the 10 minute mark, the host Duhawks tied it once again at 2-2 when a loose ball scramble in front of the Spartans net was scored on a rebound after the post was hit. Both squads played even through regulation.
UD out shot the Duhawks 4-2 and led in corner kicks 2-1 in the scoreless first overtime. Lisa Rosas captured the game winner at 104:50 when free kick to Megan Siepler bounced off the cross bar and Rosas was there for the rebound in the second overtime. UD finished the night with 13 shots and seven on goal. Kyleigh McLaughlin led the Spartans with five shots and two on goal. Eight Spartans finished with a shot in the victory. Tiffany Duncan was stellar in the net, stopping four shots by the Duhawks. UD held a large lead in corner kicks 10-5.
The Spartans (ranked #7 in NSCAA North Region) improved to 9-3 overall and 2-0 in the Iowa Conference while the Duhawks slipped to 6-6 and 1-1 in the IIAC.
The Spartans will host the Coe College Kohawks on Saturday at 5:00 p.m. for the Kick for the Cure game. Family and friends are encouraged to wear pink to the game on Saturday evening at Oyen Field.