Martinez and Schlueter Win IIAC Flight B Doubles
Oct 4, 2014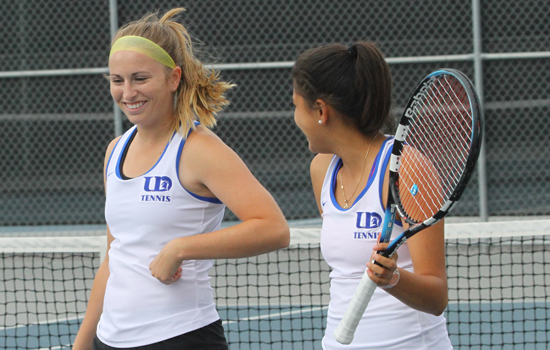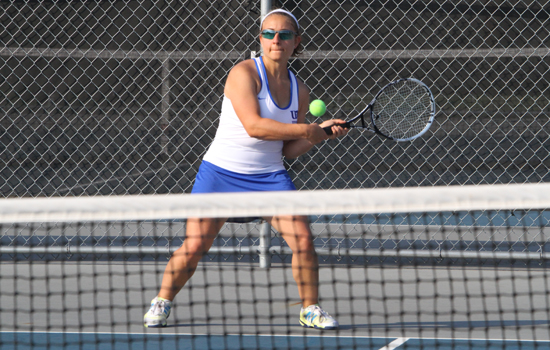 PELLA, Iowa --- Champions were crowned in five flights as the 2014 Iowa Conference Women's Tennis Individual Tournament concluded Saturday at the Kuyper Athletic Complex.
Coe freshman Haley Resnick, the No. 2 seed, won the Flight A singles title with a 6-3, 1-6, 1-0 (10) win over top-seeded UD's Arantxa Martinez. Resnick advanced with a 6-3, 6-0 win over teammate Jordan Ferree, while Martinez topped Coe's Amy Sebastian, 6-3, 6-2, in the other semifinal.
Unseeded Hailey Johnson posted wins over Wartburg's Marissa Buresh (6-4, 6-0) and Simpson's Kelli Ehrhardt (6-3, 6-1) en route to the Flight B title. Ehrhardt advanced with a 6-4, 7-6 (6) win over Wartburg's Liz Rucker. Buresh beat Rucker 9-8 (3) for third.
UD's Stephanie LoCasto defeated Buena Vista's Tarynne Kinghorn, 6-4, 6-2, in the semis and Loras' Ayla Graziano, 6-4, 6-3, in the final to win Flight C. Graziano advanced with a 6-1, 6-1 win over Wartburg's Leah Jungling. Kinghorn beat Jungling, 6-3, 6-4, for third.
Laura Birky and Jordan Ferree topped teammates Sarah Lasecki and Haley Resnick, 8-5, in an all-Coe final in Flight A doubles. Birky and Ferree, the No. 1 seeds, topped fourth-seeded Angie Allgood and Megan Davis, 8-4, in the semis, while Lasecki and Resnick advanced with an 8-6 win over Wartburg's Kayla Kuethe and Melissa Davis. The Central tandem topped the Wartburg duo, 8-5, for third place.
Flight B doubles champions Arantxa Martinez and Ashley Schlueter needed three wins Saturday to capture their crown, topping Luther's Molly Brown and Madisen Crow, 8-3, in the final. Luther's Claire Christian and Anna Pearson took third after an 8-1 win over Wartburg's Liz Rucker and Emma Friedly.
This weekend's tournament concludes the fall competition season for Iowa Conference schools. The all-conference team, most valuable player and coach of the year will be voted upon by the coaches next week.
Iowa Conference Individual Tournament
At Pella, Iowa
(Kuyper Athletic Complex)
Saturday
Flight A Singles
Semifinals
Arantxa Martinez (1), Dubuque, def. Amy Sebastian (6), Coe, 6-3, 6-2
Haley Resnick (2), Coe, def. Jordan Ferree, Coe, 6-3, 6-0
Third Place
Sebastian def. Ferree, 6-1, 6-1.
Championship
Resnick def. Martinez, 6-3, 1-6, 1-0 (10)
Flight B Singles
Semifinals
Kelli Ehrhardt (5), Simpson, def. Liz Rucker (1), Wartburg, 6-4, 7-6 (6).
Hailey Johnson, Luther, def. Marissa Buresh (2), Wartburg, 6-4, 6-0
Third Place
Buresh def. Rucker, 9-8 (3)
Championship
Johnson def. Ehrhardt, 6-3, 6-1
Flight C Singles
Semifinals
Ayla Graziano, Loras, def. Leah Jungling, Wartburg, 6-1, 6-1
Stephanie LoCasto, Dubuque, def. Tarynne Kinghorn, Buena Vista, 6-4, 6-2
Third Place
Kinghorn def. Jungling, 6-3, 6-4
Championship
LoCasto def. Graziano, 6-4, 6-3
Flight A Doubles
Semifinals
Laura Birky/Jordan Ferree (1), Coe, def. Angie Allgood/Megan Davis (4), Central, 8-4
Sarah Lasecki/Haley Resnick, Coe, def. Kayla Kuethe/Melissa Davis (2), Wartburg, 8-6
Third Place
Allgood/Davis def. Kuethe/Davis, 8-5
Championship
Birky/Ferree def. Lasecki/Resnick, 8-5
Flight B Doubles
Quarterfinals
Arantxa Martinez/Ashley Schlueter (1), Dubuque, def. Katie Todd/Kari Grindberg, Central, 8-6
Liz Rucker/Emma Friedly (4), Wartburg, def. Michelle Hartmann/Kelli Greiner (5), Simpson, 9-8 (6)
Claire Christian/Anna Pearson, Luther, def. Kassidy Ipsen/Tarynne Kinghorn (3), Buena Vista, 8-5
Molly Brown/Madisen Crow (2), Luther, def. Ashley Maley/Sarah Montgomery, Central, 8-4
Semifinals
Martinez/Schlueter def. Rucker/Friedly, 8-3
Brown/Crow def. Christian/Pearson, 8-4
Third Place
Christian/Pearson def. Rucker/Friedly, 8-1
Championship
Martinez/Schlueter def. Brown/Crow, 8-3