Women's Soccer Capture 10th Win of Season at Oyen Field
Oct 4, 2014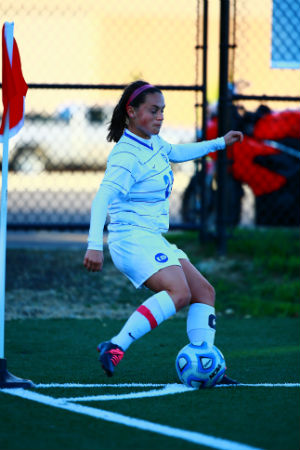 DUBUQUE, Iowa - The University of Dubuque women's soccer team ranked #7 in North Region earned their 10th victory of the season and the 199th win for coach Jason Berna at UD. The Spartans jumped out to an early halftime lead 3-0 off goals by Megan Siepler (16:24), Melissa Sawyer (28:39), and Kyleigh McLaughlin (36:11) off an assist by Melanie Prudhomme. UD stretched it to 5-0 for a final over the Coe College Kohawks after McLaughlin added her second goal of the night at 62:29. Just 10 seconds later the Spartans scored again with Sawyer collecting her second goal of the night off a penalty kick.
The Spartans keeper Tiffany Duncan earned her sixth shutout of the season as she stopped all four shots on goal. The Spartan defenders limited the Kohawks to just nine shots while the Spartans finished with 25 and 17 being on goal. Twenty Spartans made an appearance in the game with eight taking a shot in the victory. Liz Frazier and McClaughlin led the Spartans offense with seven and six shots respectively, the pair finished with 11 shots on goal. UD led in corner kicks 4-1,
The Spartans (10-3, 3-0 in IIAC) travel to Naperville, Ill for a match-up with the North Central College Cardinals (5-2-2) on Oct. 8 at 5:00 p.m. North Central is coming off a win in overtime 2-1 over Carthage on Saturday.
Coe College (5-6, 1-2) vs. Dubuque, Univ. of (10-3, 3-0)
 Date: Oct 04, 2014  Attendance: 235
 Weather: 48, cloudy, wind 17 mph

 Goals by period       1  2  Tot
 -------------------------------
 Coe College.........  0  0 -  0
 Dubuque, Univ. of...  3  2 -  5

 SCORING SUMMARY:
  1.  16:24 DBQWS Megan Siepler (7) (unassisted) - Right side 8 yds out
  2.  28:39 DBQWS Melissa Sawyer (1) (unassisted) - Corner kick
  3.  36:11 DBQWS Kyleigh McLaughlin (3) (Melanie Prudhomme) - Header from 6 yds out off shallow cross
  4.  62:29 DBQWS Kyleigh McLaughlin (4) (Katie Lynn) - 9 yds out left side
  5.  62:39 DBQWS Melissa Sawyer (2) Penalty kick

 Shots: Coe College 9, Dubuque, Univ. of 25
 Saves: Coe College 12 (MJ Winterer 9; Kaitlyn Gordley 3), Dubuque,
 Univ. of 4 (Tiffany Duncan 4)