Martinez Garners Lone Win in Women's Tennis Defeat on the Road
Oct 10, 2014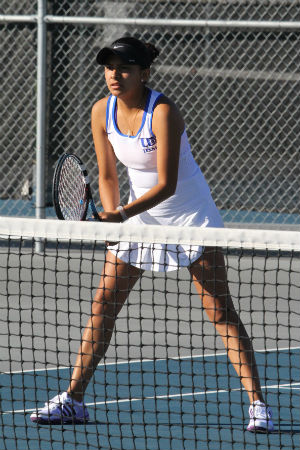 LA CROSSE, Wis. – Arantxa Martinez added to her stellar first year despite the University of Dubuque women's tennis team falling to UW-Lacrosse, 8-1.
The Spartans' (4-9, 1-6 IIAC) Martinez managed to pull through in one of her most competitive outings of the year. She found a way to earn the win, 7-6, 7-5 over the Eagles' Bridget Bellissimo. She would bounce back for the win after falling in the No. 1 doubles match with partner Ashley Schlueter, 8-2.
The Iowa Conference Flight "A" Runner-Up ran her singles record to 16-1 and Iowa Conference Flight "B" Doubles Champion dropped her No. 1 doubles record to 12-5 on the season. Her efforts have merited the singles, doubles, and overall win records in a season. She surpasses the singles and overall wins record held by Schlueter.
Nevertheless, Schlueter tightens her hold on the overall career wins (66), singles career wins (39), and doubles career wins (27). Fellow senior and Iowa Conference Flight "C" Champion Stephanie LoCasto sits behind Schlueter as as she finishes with 51 overall career wins and 27 singles career wins. She holds the UD record for most doubles career wins with 24.