Second Half Push for the Men's Soccer team Dukes the Dutch
Oct 11, 2014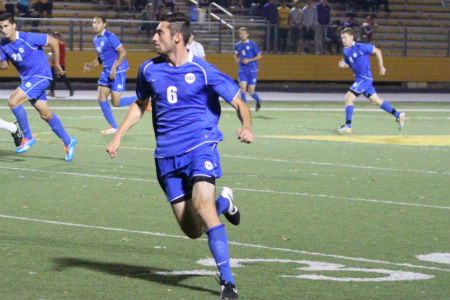 PELLA, Iowa – A scoreless first half gave way to quick strikes in the second by Billy Belmonte and Brandon Wiley as they earn the win, 2-1, over Central on Saturday night.
Gonzalo Hernandez was the offensive catalyst for the Spartans (5-6-2, 3-1 IIAC) as he assisted on both Belmonte's goal in the 47th minute and Wiley's in the 61st. The trio represents the top point scorers for the Spartans this season. Central (3-10, 1-3 IIAC) managed to counter in the 79th minute but by then it was too little, too late. The Dutch failed to record a shot on goal for the remainder of the game.
Statistically, it was a virtual coin flip in terms of the eventual victor. UD outshot Central by the narrow margin of 21-17 with both tallying six corner kicks. The Spartans held the edge in shots on goal, 6-5.
Wiley and Hernandez led the team with six and five shots attempted, respectively.
Central kept it close despite coming into today's game seventh in the Iowa Conference in shots attempted and last in goals scored with just 10 on the year.
The Spartans upped their series record against the Dutch to 6-9-1 overall. They have won six of the last seven years.
They will face Wartburg on the road next Saturday, October 18th at 7:00 p.m.