Women's Soccer team Beat by Late Dutch Goal
Oct 11, 2014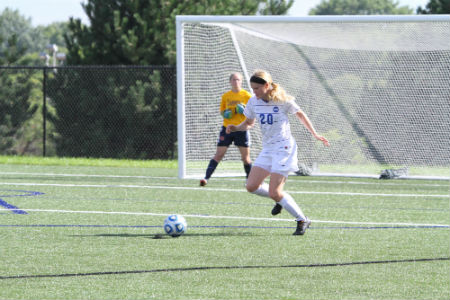 PELLA, Iowa – The Spartans fell victim to Central goal in the 79th minute and couldn't rally in the waning minutes as they fell, 1-0, in their first IIAC loss of the season.
The Spartans' Tiffany Duncan held off a penalty kick opportunity in the 78th minute but Central (6-4-3, 2-1-1 IIAC) countered with a shot in the 79th that slipped by her for the only score of the game. UD (11-4, 3-1) had its chances as time ran out producing two shots on goal in the 87th minute. Both were saved by Central's Sydney Lunardi to preserve the win.
The shot counter stood in the Spartans' favor, 17-16, while they also held the advantage in corner kicks, 4-3, and shots on goal at 5-4. UD's Kyleigh McLaughlin tallied a game-high five shots, two of which were on goal.
It was only the Spartans second loss of all-time to Central as their record dropped to 9-2-3. UD's last loss against Central came in 2001 during the program's inaugural year.
The Spartans travel to Waverly to take on Wartburg at 5:00 p.m. on Saturday, October 18th.