Women's Soccer team Back to Winning Ways After Upending Pioneers
Oct 14, 2014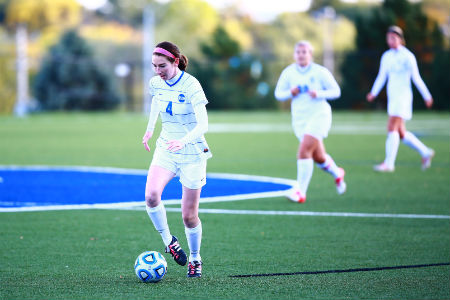 DUBUQUE, Iowa – The University of Dubuque women's soccer team defeated UW-Platteville, 2-1, on the legs of seniors Liz Frazier and Megan Siepler.
The Spartans (12-4, 3-1 IIAC) were back on the war path after dropping their first conference affair three days earlier. Siepler decided enough was enough as she watched her go-ahead shot swish the back of the net in the 64th minute of play. Emily Meeker gained the assist after the ball found its way inside the opposition's 18-yard box. A quick little tap out to the Iowa Conference's second-leading goal scorer allowed UD to avenge its 1-0 loss to the Pioneers (7-7, 1-3 WIAC) a year ago.
In a dominant first half, it was Frazier who struck first with an arcing shot off a 25-yard free kick that barely eluded the outstretched arms of the keeper. Her third goal of the season was part of an offensive attack that outshot, 12-3, and out corner kicked, 5-1, the Pioneers in the first half. UW-Platteville's Anna Sobal countered in the 34th minute off a shallow cross from the speedy Yamilex Jaramillo, but it would prove to be their first and last score of the game.
Opportunities were aplenty in the second half after the ball caromed off the Pioneer keeper's hands in a diving attempt to prevent a goal. More than once the keeper lay out of harm's way while the ball managed to pinball off defenders and offenders alike. Meanwhile the fate of the game lied in the head, shoulders, knees, and toes of the Pioneer backline. That stout defense helped the Pioneers save face and left the Spartan offensive empty-legged (handed).
Spartan keeper of the goal, Tiffany Duncan, stood pat with five saves as her offensive cohorts kept the ball in enemy territory en route to a 16-9 shot advantage throughout the match.
The Spartans improved to 7-5-1 overall in the series with wins in three of the last four years against the Pioneers.
They will face a tough test as they visit Wartburg (7-4-4, 2-1-1 IIAC) this Saturday, October 18th at 5:00 p.m. Wartburg tied Augustana (Ill.) in its last contest, 1-1, in double overtime.