Volleyball Falls to Pair of WIAC Foes
Oct 17, 2014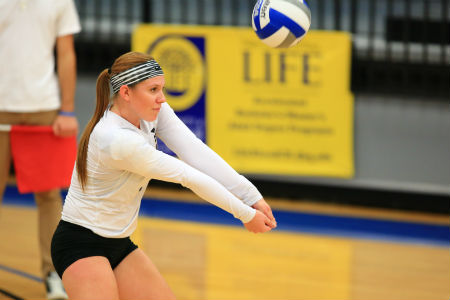 DUBUQUE, Iowa - The University of Dubuque volleyball team suffered a pair of losses at the hands of No. 25 University of Wisconsin-Whitewater and the University of Wisconsin-Platteville on Breast Cancer night at Stoltz Sports Center.

The Spartans wore pink jerseys to raise awareness and support for Breast Cancer in their first home double dual of the year. Game summaries below:
UD-1, UW-Platteville-3 (25-17, 23-25, 25-17, 25-22)
Box Score
It was a rough start for the Spartans (11-18, 2-3 IIAC) as they managed to hit just -.065 right out of the gate against the Pioneers (12-14, 2-3 WIAC). They charged back to make set two a competitive bout after finding themselves down 10-4. Thanks to a team effort they clawed their way back to a 16-16 tie. Three straight kills by Rachael Schoepke put them in the driver's seat as they held off UW-Platteville the rest of the way. Errors doomed them in set three as the Pioneers took a decisive 19-14 lead after a 12-12 tie. Set four was all UW-Platteville as they led from the outset and finished off the match.
This will be the fourth time the Spartans have faced the Pioneers in the last three years. UW-Platteville currently leads the series, 31-10.

Leaders
Kills - Karrah Davis 13 | Assists - Hannah Zieser 34 | Digs - Olivia Larson 19 | Blocks - Anna Runge 2

UD-1, #25-ranked UW-Whitewater-3 (25-8, 25-13, 19-25, 25-12)
Box Score
The offensive juggernaut that was UW-Whitewater (18-5, 4-0 WIAC) overwhelmed the Spartan defensive in the first set. They hit .500 and cruised to the set win. Set two was much of the same but set three featured a whole new Spartan team. The Spartans' (11-18, 2-3 IIAC) offense roared to life and hit .278 while the defense stood pat in limiting UW-Whitewater to a .094 hitting percentage. Alyssa Cose delivered a pair of aces as she served up a quick 5-point run that pushed the Spartan lead to 16-12. From there it was a matter of putting the nail in the coffin as they stole an entertaining set three (seven ties and six lead changes). The Warhawks proved to be too much in the end as the Spartan attack managed a -.129 in the fifth set as UW-Whitewater took the match.
The Spartans played the Warhawks for the first time since 2005 and fell to 1-12 overall in the series.

Leaders
Kills - Davis 6 | Assists - Cose 18 | Digs - Kristin Wright 20 | Blocks - Davis/Schoepke 3
The Spartans travel to Storm Lake, Iowa to take on Buena Vista University (19-8, 4-1 IIAC) this Thursday, October 23rd at 7:30 p.m. Buena Vista dispatched of Luther, 3-2, in their last IIAC contest.
The double dual also featured Loras College (11-14, 1-4 IIAC) squaring off against both WIAC opponents as well.

Loras results
Loras-2, UW-Platteville-3 (set scores: 13-25, 28-26, 19-25, 25-20, 15-11) Box Score
Loras-0, #25-ranked UW-Whitewater- 3 (set scores: 28-26, 25-21, 25-20) Box Score