Jensen's Clutch Play Helps Capture IIAC Performer of the Week Honors
Oct 21, 2014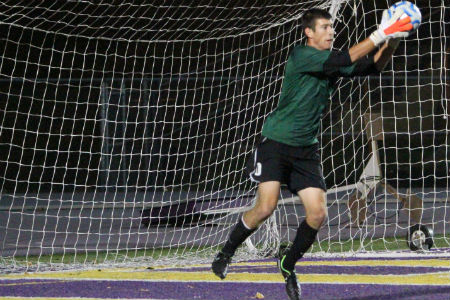 DUBUQUE, Iowa – Men's goalkeeper Riley Jensen saved a season-high 11 shots in 1-1 double overtime draw at Wartburg and was named Iowa Conference men's soccer Defensive Performer of the Week.

Jensen, a junior out of Elgin, Ill., staved off 12 shots on goal and 30 shots total at No. 15 Wartburg as the UD men's soccer team escaped with the tie last Saturday night. After allowing Wartburg's only goal just nine minutes into the game, Jensen hung tough for the remaining 101 minutes between the posts to preserve the draw. His clutch play was on full display after he saved three shots in the second overtime period as the Spartans halted the Knights' five-game win streak.
Jensen and the Spartan UDefense bottled up a Wartburg offense that had outscored its opponents 21-5 during its aforementioned streak, and 40-16 overall this season. It was only the seventh goal the Spartans have surrendered to Wartburg in the last five games in the series.

His season-high 11 saves are the most since he saved 10 in his first game of the season on the road at UW-Whitewater, September 10th. He currently leads the Iowa Conference in saves per game at 6.3 and sits second in save percentage at 81.8%. His 63 total saves puts him in third-place overall in the IIAC despite playing only 10 games.
The 2013 Academic All-Iowa Conference award winner majors in criminal justice and minors in environmental science.

The Spartans (5-6-3, 3-1-1 IIAC) take their talents to Elmhurst (8-3-3, 2-1-1 CCIW) tonight, October 21st at 7:00 p.m. Elmhurst dispatched of Millikin University, 4-0, their last time out.

Official IIAC Release

Wartburg recap