Martinez Nabs First Team All-Iowa Conference Selection
Oct 28, 2014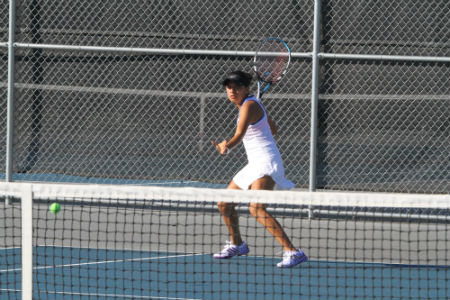 DUBUQUE, Iowa – After a nearly flawless fall and an Iowa Conference 'B' Flight Doubles Championship, University of Dubuque women's tennis freshman Arantxa Martinez, was named an Iowa Conference First-Team selection.
After the greatest season in UD women's tennis history she came oh-so-close to an Iowa Conference title as the overall No. 1 seed in early October. Martinez entered the IIAC tournament 12-0 and was seeking her second victory over Haley Resnick of the season after battling her way to the IIAC Championship. She had Resnick, also a freshman, on the brink in the third set of the Championship match but couldn't quite close out, 3-6, 6-1, 10-12. It would become the only blemish on an otherwise undefeated singles season, 16-1, where she lost just five sets total.

She would bounce back quickly with doubles partner, Ashley Schlueter, as they captured the IIAC B Flight Doubles Championship after defeating a Luther pair, 8-3. The dynamic duo would finish the season with a record of 12-5 to set the record for most doubles wins. It would surpass the record held by 2014 IIAC 'C' Flight Individual Champion, senior Stephanie LoCasto (10 wins).

Martinez's early success led to three UD single-season records that included most singles wins (16), doubles wins (12), and overall wins (28). Coincidentally, most singles wins and overall wins records were previously held by Schlueter.

What They're Saying
"Martinez played very well and exceeded expectations. She deserved to be All-Conference, but the loss was a good lesson and provides some experience going into next year. She knows what she has to do to get better now that she's more aware of her strengths and weaknesses," head coach Claudio Giraldi on Martinez's season and her prospective future.

"Arantxa is the best woman's tennis player UD has seen and I have been lucky enough to be her doubles partner for her first year. The whole team has been on her side through her tough match-ups this fall and she has been there for us. When you come across a player as good as her, some would expect that she would focus on herself, but not her. She is genuinely a great player and even better teammate and friend," team captain and doubles partner Ashley Schlueter on her teammate.

Coach Giraldi and Martinez look forward to a fresh 2015 women's tennis team that will feature a bevy of underclassmen after the departure of three seniors.