Opportunistic Spartans Move On to IIAC Second Round
Nov 1, 2014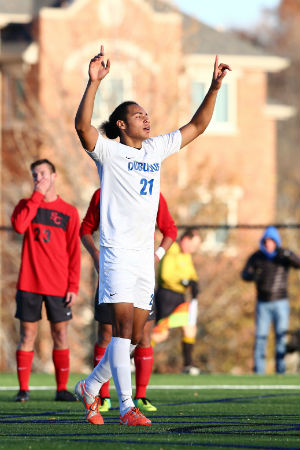 ‌
DUBUQUE, Iowa – Goalkeeper Riley Jensen and the No. 4 seed University of Dubuque men's soccer team withstood a furious attack from the No. 5 seed Simpson offensive as they earned the win, 3-1, to advance to the IIAC Semifinals.
Despite being outshot, 23-14, and out corner kicked, 14-4, the Spartans (7-8-3, 4-2-1 IIAC) capitalized on opportunities when it mattered. Senior Brandon Wiley delivered the final blow with an 83rd minute goal thanks to a Gonzalo Hernandez assist that gave the Spartans a 3-1 lead. Wiley's insurance goal gave UD some breathing room after surviving some close calls from the Simpson (12-9, 3-4 IIAC) front line for most of the second half.
The big stage didn't bother UD goalie Jensen after he put on a clinic between the posts, especially in the second half. The only blemish on an otherwise clean slate was a penalty kick conversion by Simpson's all-time leading goal-scorer, Mitchell White, in the 58th minute. White shot it right up the middle, just out of reach of Jensen's right foot to score Simpson's lone goal. It came on the heels of a hand ball inside the box by the Spartans.

Jensen was a human highlight reel after staving off 16 Simpson shots in the second half as the Spartans preserved a one-goal lead. Many of the shots were aimed at the perimeter of the goal as he dived, leaped, and willed his lengthy frame to all of his 10 saves. It wasn't easy as Simpson's shots pin-balled their way inside the 18-yard box off pinpoint feeds or one of their 14 attempted corner kicks. In a chaotic span of 1:12 (77:20-78:32), Jensen tallied three saves and held off three corner kicks.

The UDefensive effort of Jensen and Co. gave way to two goals by Hernandezand Leo Lenth on four total shots in the first half. Hernandez's 9th goal of the year came via a header in the 24th minute off an arcing free kick from Wiley, then Lenth delivered five minutes later off a shallow cross from Andrew Guelle. Their 2-0 lead held steady until White's penalty kick early in the second.
Wiley led the Spartans with seven shots, including six on goal.

It was UD's second win over Simpson in less than a week after defeating them, 2-1, in double overtime last Saturday. UD's two-game winning streak in the series bumps their record to 7-10 against Simpson overall.

Today's win moves the Spartans into the second round of the Iowa Conference tournament where they will look to avenge an earlier loss at Loras on October 1st, 1-0. Loras men attended the first half of today's game after earning a first round bye as the no.1 overall seed. The two will square off either Tuesday or Wednesday with the time to be announced later on.

Box Score