Spartan Men's Harriers Record Best Finish in 31 Years at IIAC Championships
Nov 1, 2014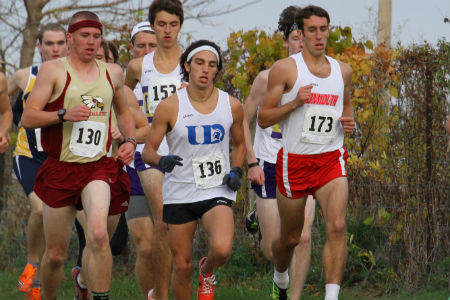 INDIANOLA, Iowa - Junior Payton Nevills paced the University of Dubuque men's cross country team with a 17th place finish as the Spartans placed fifth overall at the Iowa Conference Championships hosted by Simpson College.
The Spartans (169 points) were preceded by IIAC champion Loras (33 points), Central (37), Luther (77), and Wartburg (84). Every team managed to brave the cold and the rolling hills of restless Pickard Park nestled in the outskirts of Indianola, Iowa. It was Pickard's first time hosting the IIAC Championships since 2003.

UD bested their 214 point, 8th place performance from a year ago and showed marked improvement. Their previous best finish in the last ten years had been in 2004 when they finished 7th overall.

Nevills time of 26:18 left him within reach of All-IIAC honors and was a substantial personal record as well. He continues to climb the UD history books as he now owns the third-fastest time. Alec Bass,the owner of UD's second-fastest time, got his first taste of a championship race after following up Nevills in 31st place with a time of 27:09.

The underclassmen trio of Jordan Murray (54th, 27:44), Jack Lindsay (69th, 28:12), and Jon Berland (98th, 29:05) followed suit and put the finishing touches on the Spartan Five. Previously injured Matt Zittrisch ran in only his third meet of the year and followed closely behind Berland after a 102nd place finish in 29:20 to finish sixth for the Spartans. Ames Helzer represented the remaining UD varsity after crossing in 30:10, good for a 117th finish.

Assistant coach Geoff Gundlach was impressed with UD's veteran presence, especially in a meet of this caliber.
"I thought we were aggressive and latched onto teammates during the tough middle and late stages of the race. Veterans Murray, Berland, and Nevills ran the most complete races of their college careers and fought hard from the outset," said Gundlach. "Zittritsch also ran tough … just a good team effort from 1-13 today."

Head Coach Chad Gunnelson shared Gundlach's sentiment and sees a bright future on the horizon.
"We talked a lot this weekend with the team about perspective. They are in the best shape of their lives and accomplishing more than they've ever done before and more than this program has ever done. Today shouldn't have been any different. And it wasn't. They competed well. We are very proud of each and every one of our Spartans," said Coach Gunnelson.
The Spartans will use this momentum as they travel to Pella, Iowa for Regionals, hosted by Central College, on November 15th at 11:00 a.m.

Complete Results