Hernandez's Three Goals Garners Second Career IIAC Player of Week Award
Nov 4, 2014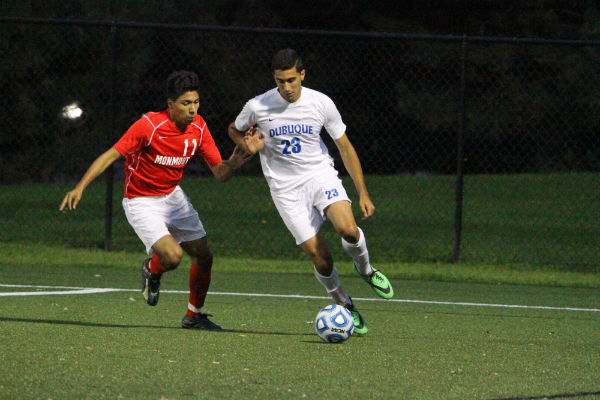 DUBUQUE, Iowa – Sophomore Gonzalo Hernandez continued his recent tear through IIAC competition after scoring three goals and tallying two assists against Luther and Simpson to earn his second career Iowa Conference men's soccer offensive performer of the week award.
Against no. 5 seed Simpson on November 1st, Hernandez put the no. 4 seed Spartans on the board first with a header from eight yards out thanks to a free kick assist from Brandon Wiley. His score 24 minutes into the game held true until Lenth dropped in a second goal minutes later. Hernandez returned the favor with a slick assist to Wiley in the 83rd minute to ice the game at 3-1.

UD goalkeeper Riley Jensen and the UDefense battled with an unrelenting Simpson offense as Hernandez & Co. made every shot count. UD was outshot, 23-14, but 11 of the Spartan shots were on goal. Wiley led the way with seven shots attempted, six on goal while Hernandez tallied three shots, two on goal.

UD avenged their IIAC first round loss to Simpson, 2-1, a year ago. Simpson definitely felt the sting after returning every participating player from last year's game except their goalkeeper.
Hernandez contributed to every goal against Luther in their electric 4-3 loss in double overtime on October 27th. His assist to Leo Lenth in the 32nd, followed four minutes later by a goal of his own gave UD the early 2-0 advantage. After three unanswered Luther scores, Hernandez torched the net for an 83rd minute equalizer to make it 3-3. His penalty kick attempt a minute later off a Luther hand ball was denied to take the lead as the game headed to overtime.
Despite the double overtime defeat, Hernandez and his offensive cohorts capitalized on opportunities throughout. They scored three goals on a Luther team that had allowed just five scores in six IIAC games.

Hernandez has now scored in three straight games dating back to October 25th, also against Simpson. His game-winning golden goal 1:21 into the second overtime allowed UD to escape with the 2-1 victory.
He certainly prospers in the friendly confines of Oyen Field after netting six of his nine goals at home. The Madrid, Spain native led the Iowa Conference in shots (31), finished second in points (13), was second in assists (3), and ended up third in goals scored (5) after seven regular season games.

Thanks to his nine total goals in 2014, Hernandez ups his career goal count to 13 which puts him 9th all-time in UD history. The offensive catalyst's resume continues to grow as his 53 shots on goal puts him in 6th place, 113 shots attempted leaves him in 8th place, and 35 points has him in 10th place all-time.

The 2013 Honorable Mention All-Iowa Conference selection majors in business.

Hernandez and the Spartans face cross-town rival No. 1 Loras for a second time this season in an IIAC semifinal on Wednesday, November 5th at 7:00 p.m. UD narrowly fell, 1-0, on the road to the Duhawks on October 1st.

Official IIAC release

Luther recap | Simpson recap