Spartans Bow Out in IIAC First Round Despite Quick Start
Nov 4, 2014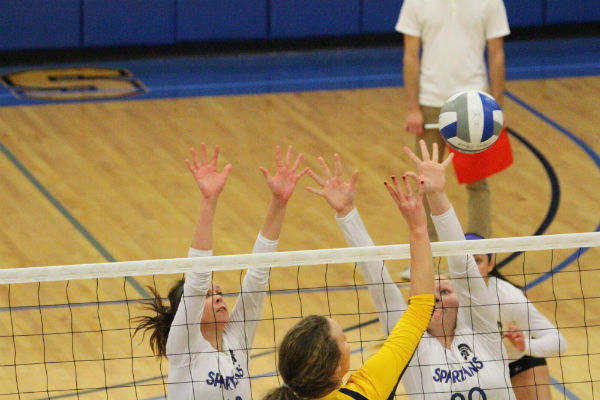 STORM LAKE, Iowa – The University of Dubuque volleyball team got off to a quick start after taking set one but couldn't hang on after falling, 3-1 (25-21, 21-25, 21-25, 11-25) to Buena Vista in round one of the IIAC tournament.
Despite hitting .057 and allowing No. 3 seed Buena Vista (24-10, 5-2 IIAC) to hit .229, the No. 6 Spartans (12-24, 2-5 IIAC) escaped with 25-21 first set victory. UD would steadily improve their hitting in sets two and three to .118 and .129, respectively, but it was no match for the Beavers' .286 and .355. Buena Vista would seal the deal with an unreal .450 hitting percentage in set four.
The Beavers' freshman Jade Schaap – 13th in the country in total attacks - was a force throughout after posting a .375 hitting percentage and a game-high 25 kills. UD had 29 kills as a team with Klaudia Basierak, 9th in the country in total attacks, leading the way with 10. Basierak also set a school record for most attacks after finishing the season with 4,354, 33 ahead of Sara Gassmann '99.
UD's fourth straight Iowa Conference tournament berth was a quick one after mustering up an overall hitting percentage of .039 while surrendering a .314 clip to Buena Vista.
Spartans still retain the upper hand in the overall series, 25-20, in their third consecutive defeat to the Beavers.
Senior Amy Tranel recorded two kills and two blocks in her final game for the blue and white. The Hazel Green, Wis. native ends her career with 702 kills and 227 blocks in 404 sets played.

Buena Vista will move on to the second round of the IIAC tournament where they will face No. 2 seed Wartburg on Thursday.

Box Score