Women's Soccer Crowned IIAC Champs After PK Marathon
Nov 9, 2014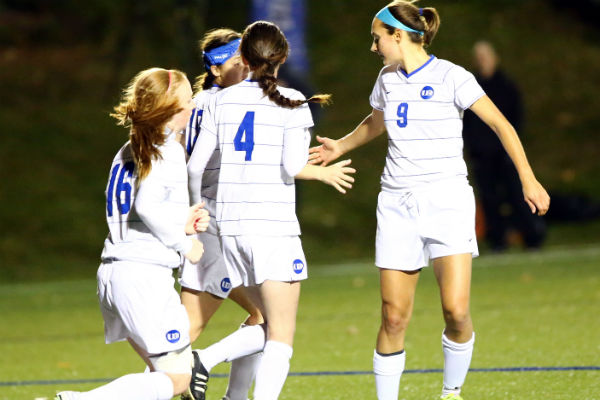 DUBUQUE, Iowa – Two overtimes wasn't enough as Melanie Prudhomme delivered the No. 1 seeded University of Dubuque women's soccer shootout winner on Saturday afternoon for the victory in a 0-0 tie in the 2014 IIAC Women's Soccer Tournament Championship.
UD's second Iowa Conference tournament title is their first since 2009 and is the first-time in school history the Spartans (16-4-1) have won both the regular season IIAC title and the IIAC tournament title. The Spartans would dispatch of No. 4 Wartburg in their semifinal on Wednesday, 2-1.

Coincidentally, in their 2009 tournament run the No. 2 Spartans also scored a total of two goals and advanced to the IIAC Championship thanks to a 7-6 penalty kick advantage in a 1-1 (2OT) semifinal win over No. 3 Loras. They would defeat No. 5 Simpson in the IIAC Championship, 1-0.

THE Shootout
After a scoreless draw through 110 minutes, the pressure ramped in a winner-take-all penalty kick shootout. UD triumphed over Central, 6-5, after 18 PKs. (O = make, X = miss)


| | | | | | | | | | |
| --- | --- | --- | --- | --- | --- | --- | --- | --- | --- |
| Shot | 1 | 2 | 3 | 4 | 5 | 6 | 7 | 8 | 9 |
| Central | O | X | X | O | O | O | O | X | X |
| UD | X | O | O | X | O1 | O2 | O3 | X | O4 |







Central (11-4-4) started it off as they would alternate kicking between both teams for the standard five kicks. Emily Meeker1 kept the Spartans in it as she converted a do-or-die PK to force sudden death. Kelsey Graefen2 and Alora Esparza3 followed Meeker by countering Central makes on kicks six and seven.

Central GK Lunardi dove right as Prudhomme's game-winner4 on the 9th kick torched the net through the left side to seal the victory
Coach Berna on the shootout and Esparza's clutch PK off the bench, "We worked out who would be the shooters ahead of time and Esparza was definitely in that conversation. With her being left-footed it added a different look for their goalie. But despite that, I had confidence in her and also Haylee Nutter - who would have taken 10th PK attempt - to come in cold and pull through for us. All the girls did a nice job of reading the situation and converting."

Regulation and Overtimes
Despite taking two shots in the second overtime, the Spartans' two biggest opportunities nary a shot was attempted. Liz Frazier couldn't quite capitalize on a free kick from just outside the 18-yard box in the 3rd minute. Soon after, Graefen's pass off a fast break just skirted out of the reach of Katie Lynn, unguarded up the middle in the 7th minute.

Frazier's free kick was one of many throughout the night as she became a big part of the Spartan offense after tallying a game-high seven shots, including three on goal.

The regulation period was a battle from the get-go between two teams that saw their share of opportunities. The first half was played even on both sides as Central attempted six shots and UD launched eight. Scoring goals was a struggle between two defensively proficient teams after UD surrendered just five goals in seven regular season IIAC games, while Central allowed six.

UD's best scoring opportunity to that point came up empty-handed after Megan Siepler dropped a pinpoint pass to Prudhomme within 10 feet via their two-woman fast break in the 23rd minute. It was Prudhomme vs Central's goalie, Sydney Lunardi, as her shot nearly grazed the top of the goal.

Both teams couldn't find a crease as a majority of Spartan goal keeper Tiffany Duncan and Lunardi's 17 combined saves were shots struck right at them. All-in-all, UD attempted 20 shots to Central's 11 on the night.
The outcome came as no surprise after a hard-fought 1-0 Central victory in their previous meeting on October 11th. The game remained scoreless until a Central goal 80 minutes in.

UD's tie with Central moved their overall series record to 9-2-4. It was the third tie between the two teams in their last five meetings.

Box Score

The Spartans receive the IIAC's automatic bid and will move on to the NCAA Regionals. Opponent, site, and time of game will be announced at noon on Monday. Here is the link of the NCAA LIVE webcast:
http://www.ncaa.com/live/player?vid=2014/1823&date=2014/11/10
Here is the web page for the NCAA scheduled broadcasts: