Basierak Awarded Third IIAC 1st-Team Honor
Nov 10, 2014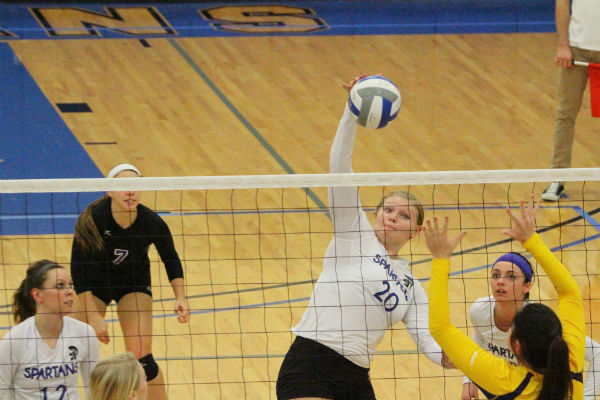 DUBUQUE, Iowa – Junior outside hitter, Klaudia Basierak of the University of Dubuque volleyball team, earned her third-straight first team All-Iowa Conference selection after finishing first in total attacks and third in kills during IIAC play.
The Hainesville, Ill. native led the Spartans in kills and attacks for the third straight year after racking up 415 (3.43 kills/set) and 1382 (11.82 attacks/set) throughout the season. She would also set the UD career record for total attacks, 4,354, after tallying 42 in the final match of the season against Buena Vista in the first round of the IIAC tournament.

She racked up two All-Tournament team selections at the Ripon College Red Hawk Invitational (September 19-20) and Millikin University's Linda Slagell Dig for the Cure Classic (October 24-25). The Spartans recorded a 3-1 record at the Ripon Invitational as Basierak hit .216 with 66 kills, 46 digs, and 12 blocks in 17 sets. At the Millikin Classic, UD posted a 1-3 record with two 5-set losses as Basierak hit .147 with 40 kills, 24 digs, and five blocks in 14 total sets.
She adds this year's honor to a growing list of accolades that already includes 2013 First Team Capital One/CoSIDA Academic All-District award, 2013 All-Academic IIAC award, 2012 and 2011 First Team All-IIAC selection, 2012 IIAC Freshman of the Year, and four career All-Tournament team awards.

Basierak had a season-long streak of nine games with 11 or more kills starting with Coe on September 17th and ending on the road at Augustana on October 10. She averaged 3.81 kills per set during the streak with a hitting percentage of .214.

Her season-highs include: .385 attack percentage vs UW-Superior on September 19th, 23 kills vs UW-River Falls on September 20th, and 69 total attempts vs Edgewood on September 2nd.

She also set a career-high in sets played (121), matches played (32), and blocks (48) in one season.

The three-year starter majors in elementary education.

What They're Saying
"Although a standout on the volleyball court since her freshman season, this past year Klaudia dedicated herself to getting stronger and more fit in the weight room. While relying heavily on her for offense, Klaudia's hitting efficiency has risen every season, and her leadership on and off the court is improving every day. She continues to push her teammates to be better student-athletes at the University of Dubuque. It's exciting to think about what the next year will bring and I can't wait to see her in action during her senior season!" - Coach April Elsbernd

"Klaudia is a great friend and teammate, and a great role model on the court. She is someone that we can all look up to if we need to find our motivation to work harder and play to our full potential." - Primary Setter Hannah Zieser '17

Season Stats