Experience Guides Women's Basketball in 2014-15
Nov 17, 2014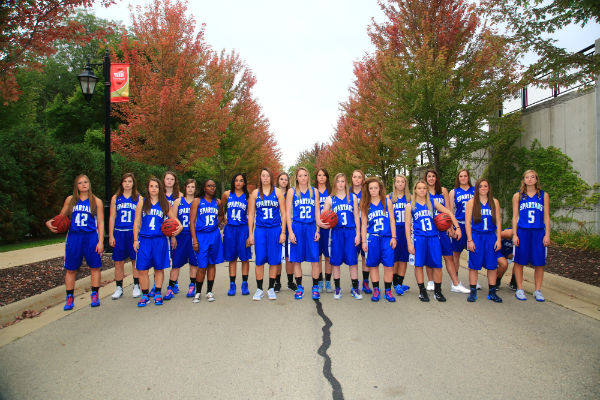 University of Dubuque Spartans
Head Coach: Mark Noll (8th season, 101-84)
Last Year: (17-9, 10-4, 2nd in IIAC)
2014 IIAC First Round vs. No. 6 seed Buena Vista, L 63-59
Preseason Ranks
Iowa Conference Coaches: 5
Bennett Rank: 126
Massey Rating: 71

SEASON OPENER
UD Tip-Off Classic
vs. Edgewood College
Dubuque, Iowa
November 15, 2014
5:00 PM

DUBUQUE, Iowa – The Spartans are back after setting a school record by finishing second in the Iowa Conference a year ago. The good news, they return six of their top returning scorers and 91.1% of their rebounds for a team that qualified for their fifth straight IIAC Tournament. Absent are a pair of six-footers who anchored the defensive front and leaves them with one of the smallest groups Coach Mark Noll's ever had.
"We are a pretty balanced team this year and can literally score from all five spots on the floor," stated head coach Mark Noll. "We won't have the size in year's past, but we will use it to our advantage. The Spartans will play an up-tempo, aggressive style which is disciplined and adaptable at the same time."

With an all-senior starting lineup featuring 2014 First team All-IIAC selection, Jenna Kotas (15.8 ppg, 5.5 rpg), the Spartans have the experience to win their first IIAC title. Fellow seniors, Kayla Springer, Jessica Goetz, and Meggie Schmidt, provide the intangibles and leadership gained from a 2012-13 IIAC Tournament Championship run who fell just short of their goal.

"We could have different players step up at any time, but we can always rely on our seniors who have been in big games before," stated Noll. "They know the feeling and they know what it takes. We are equipped to handle any situation with the leadership and experience we have in our program."
Behind the Numbers:
1 - Led IIAC by a wide margin in FG% (.334) and 3FG% (.236) defense
2 - 2013-14 IIAC finish, best in school history
5 - Starting seniors on this year's squad
6 - Of UD's top scorers return
19 - Games senior Jenna Kotas led team in scoring, including every IIAC game
64.2 - Single season FG% school record by sophomore Daneshia Snitker
100 - Wins for Coach Noll, milestone reached in victory over Luther on February 23, 2014
1,990 - Points scored during 2013-14 season, a single season UD record

Line-up
The Spartans return top-6 scorers from last year and look to make waves in the IIAC after returning an all-senior starting five. Forward Jenna Kotas, led the Spartan attack by garnering two IIAC Performer of the Week awards and a First Team All-IIAC selection. She's back for her final year after leading the team in 14 statistical categories, including points and rebounds. Defensive stalwarts, Kayla Springer and Jessica Goetz, certainly pack a punch on the offensive side as well (15 ppg combined). A three-sport starter, Meggie Schmidt, will bring a renewed focus after a productive off-season. Brittany Collier, will step into a new role after averaging 15.6 minutes off the bench last year.

Look for Emily Brinker and Daneshia Snitker to lead the charge in supporting roles. Brinker finished second on the team in scoring, while Snitker is the top-returning rebound rate (7.0 rebounds/25 min.) on the team. Snitker can also score the ball after setting a UD single season record with a 64.2% field goal percentage.

Watch out for lightning-quick point guard, freshman Abbey Meyer, who won Cedar Rapids Gazette Female Athlete of the Year for the top athlete in Eastern Iowa last year. She'll put her athleticism to the test after being named All-State in basketball, softball, and track and field at Cascade.

Noll added, "This is the most experienced group we've ever had especially with five seniors in starting roles. It's also the shortest group we've had. We certainly don't have a 6-2 type player who is a a true 5-position. We make it up as the fastest, most athletic group in my time here as coach. It's definitely a team who can play very deep, but not as deep as in years past. Traditionally I like to play 5 in, 5 out. We will probably ride our seniors at least early in the season."

Projected Starters (FG%/3P%/FT%)
F Jenna Kotas (5-11, SR, Tinley Park, Ill.) | (15.8 ppg, 5.5 rpg, 1.2 apg, .408/.312/.810)
F Kayla Springer (5-9, SR, Altoona, Wis.) | (7.4 ppg, 4.0 rpg, 1.2 apg, 35 stl, .362/.339/.767)
G Jessica Goetz (5-9, SR, Sussex, Wis.) | (7.6 ppg, 4.7 rpg, 2.9 apg, 69 stl, .354/.159/.678)
G Meggie Schmidt (5-7, SR, Edgerton, Wis.) | (6.5 ppg, 3.8 rpg, 1.2 apg, 44 stl, .318/.250/.590)
G Brittany Collier (5-4, SR, Oswego, Ill.) | (3.3 ppg, 3.5 rpg, 1.9 apg, .367/.143/.628)

Key Reserves
G Emily Brinker (5-11, SO, Baraboo, Wis.) | (8.6 ppg, 2.5 rpg, 0.9 apg, .422/.273/.698)
G Daneshia Snitker (5-8, SO, Waukon, Iowa) | (6.8 ppg, 3.7 rpg, 0.2 apg, .642/0/.705)
G Molly Richardson (5-5, JR, Marengo, Ill.) | (1.9 ppg, 0.4 rpg, 0.1 apg, .333/.250/.833)
F Brittani Graves (5-10, JR, Dubuque, Iowa) | (0.8 ppg, 1.7 rpg, 0.1 apg, .188/0/.333)
G Jessie Kirkwood (5-8, JR, Hudson, Wis.) | (0.6 ppg, 0.7 rpg, 0.3 apg, .250/0/.500)
G Abbey Meyer (5-4, FR, Bernard, Iowa) | No College Stats

Playing the Percentages (% Returning from 2013-14)
80.9% - Points
91.1% - Rebounds
81.7% - Assists
80.5% - Steals
44.1% - Blocks
77.3% – 3 point makes

Key Players Lost
The Spartans got big contributions out of three of their seniors from a year ago. Stefany Remakel, a 6-3 center, led the team in blocks with 53 and rebounds with 136. Remakel and 6-1 Heather Chapman's presence down low will be sorely missed as will Jennifer Fischer's solid contributions and team leadership.

"We lost three good seniors, who happened to be our tallest players in the program," stated Noll. "We will definitely miss their leadership, but it's trickled down to our seniors this year. Their class was the third class in a row to leave here with the most wins in a 4-year career."

G Jennifer Fischer (4.4 ppg, 2.3 rpg, 1.0 apg, .386/.200/.647)
C Stefany Remakel (3.7 ppg, 5.2 rpg, 0.5 apg, 53 blks, .412/0/.444)
C Heather Chapman (3.5 ppg, 2.0 rpg, 0.1 apg, .543/0/.609)

Newcomers
Abbey Meyer (Cascade HS/Cascade, Iowa): Led her team to Final Four, Gazette Female Athlete of the year, All-State in basketball, softball, and track, Four-time All-Conference in volleyball
Kara Enos (Eleva-Strum HS/Strum, Wis.): WBCA All-Star, Won Conference Championship last year, HS coach Krystal Parr was a part of Coach Noll's 2nd recruiting class at UD
Allie Biermeier (Memorial HS/Eau Claire, Wis.): All-Conference in both basketball and volleyball, basketball team had one of their best seasons in a long time last year
Braana Steen (Colfax HS, Colfax, Wis.): Two years ago finished second at State in basketball, last year ranked No. 1 most of season, five-time All-Conference combined in basketball and volleyball
Hannah Jensen( Menomonie HS, Menomonie, Wis.): Second team All-Conference, assistant coach Jenna Darwin was a '13 UD grad

"All 16 players can contribute, but as our five freshmen gain experience throughout the season look for more of them to help us, especially with the amount of seniors we have graduating next year. They will have to adjust to a higher intensity level and the speed of things. "It's cliché, but the next game on the schedule is our key game. We purposefully beefed up our non-conference slate and look forward to each and every game. As far as the conference is concerned, the IIAC from top to bottom is going to be really tough. It should be one of the strongest years for the conference in a while," said Noll.

Schedule
Bennett Rank
IIAC National Rank: 11
Massey Ratings
Expected W-L: 13-11
SOS: 44

According to Coach Noll, the Spartans will face the toughest non-conference schedule since he has been at the helm (7 years). It features two tournaments, including season-opener at home, where they will face four teams from one of the nation's best, the Wisconsin Intercollegiate Athletic Conference (WIAC), with the possibility of facing a fifth. That includes UW-Whitewater, a final four team a year ago, and CCIW's Wheaton College (Ill.), chosen as CCIW favorite this year. UD will open IIAC play at Central on January 7th and faces rival Loras on January 21st and January 31st.

According to the Massey Ratings, the Spartans face the 44th toughest schedule in the nation out of 438 Division III teams. It will be a challenge, but expect the71st-ranked Spartans to surpass expectations after a predicted season record of 13-11 by Massey. UD carries the fourth-highest IIAC preseason ranking behind Coe (70), Simpson (59), and Loras (37).