Unbeaten Men's Basketball Picked 2nd in IIAC Coaches Poll
Nov 21, 2014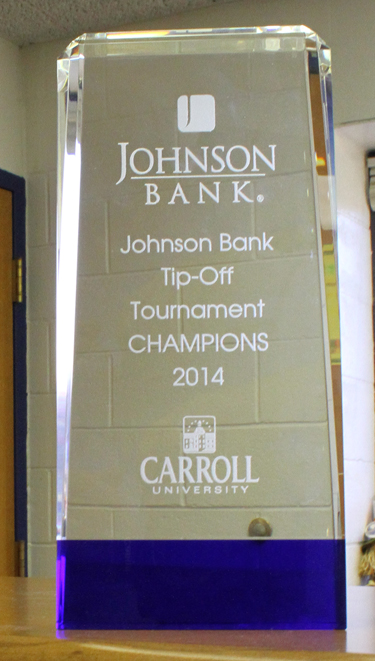 CEDAR RAPIDS, Iowa - The University of Dubuque men's basketball team, last year's regular-season runner-up, picked up three first-place votes and sits second with 50 points in the 2014 IIAC Pre-season Coaches Poll recently released. The Spartans were picked second on two ballots and third on two others. The Spartans opened last weekend with a pair of victories at Caroll University Johnson Bank Classic taking the team championship. Earning all-tournament honors were Andre Norris and and Jacob Mohlis were named to the All-Tournament team for their efforts.
UD returns three starters and 12 letter winners from last year's 21-5 team which finished second in the league with a 10-4 mark. The Spartans return three of their top four scorers from last season, including a pair who averaged double-digits. Junior forward Andre Norris, a two-time all-conference pick, was one of the league's top all-around players last season, starting all 26 games and averaging 18.2 points and 6.2 rebounds per game while shooting 56.4 percent (180-of-319) from the field, 48.5 percent (33-of-68) from behind the 3-point line and 70.4 percent (81-of-115) from the free-throw line. He also posted a team-high 31 blocks and ranked second on the team with 54 assists. He ranked third among all IIAC players in scoring and 3-point field goal percentage, third in field goal percentage, fourth in blocked shots and ninth in rebounding. In IIAC play, he hit a league-leading 102 field goals and ranked third in scoring at 19.2 points per game. Norris also ranked fourth in field goal percentage (.520; 102-of-196), fifth in 3-point field goal percentage (.444; 20-of-45) and eighth in rebounding (7.1 rpg).

Senior forward Gage Heffernan, a second-team all-IIAC pick last year, ranked third on the team in scoring last season at 13.6 points per game and pulled down a team-high 7.0 rebounds per game. He also led the team with an IIAC-high 44 steals. Heffernan ranked sixth among IIAC players in rebounding and blocked shots (0.68 bpg), seventh in field goal percentage (.511; 117-of-229), eighth in free throw percentage (.797; 98-of-123) and 10th in scoring. In league play, he led the IIAC in steals (1.69 spg) and ranked sixth in blocked shots (0.62 bpg), eighth in scoring (14.8 ppg) and field goal percentage (.496; 68-of-137), fifth in rebounding (7.8 rpg),

Senior guard Brandon Ferguson played in 25 of 26 games last season, scoring 8.6 points and pulling down 3.2 rebounds per game. He ranked 13th among IIAC players in field goal percentage (.470; 79-of-168).

The Spartans also welcome back senior point guard Lucas Ware, who played in one game last season, scoring six points and pulling down seven boards in 25 minutes on the court before an injury sidelined him for the season. He played in all 29 games in 2012-2013, averaging 4.6 points and 16.8 minutes per contest. He shot 39.8 percent (49-of-123) from the field while pulling down 96 rebounds and had 44 assists and 29 steals, ranking second on the team in the latter category. Ware tied for ninth-best among IIAC players in steals.

Robbie Sieverding commented, "We are looking forward to competing in what should be a very balanced Iowa Conference this season. We're on the road alot to start the season and look forward to the near year to begin Iowa Conference action."
The complete 2014-2015 IIAC Men's Basketball Coaches' Poll follows.
| | | | |
| --- | --- | --- | --- |
| Rank | School (1st place votes) | Points | 2013-2014 Record |
| 1 | Buena Vista (5) | 53 | 14-13, 8-6 IIAC |
| 2 | Dubuque (3) | 50 | 21-5, 10-4 IIAC |
| 3 | Loras | 46 | 15-11, 8-6 IIAC |
| 4 | Luther | 35 | 17-11, 7-7 IIAC |
| 5 | Central | 34 | 21-8, 11-3 IIAC |
| 6 | Wartburg | 25 | 13-13, 7-7 IIAC |
| 7 | Coe | 21 | 11-14, 3-11 IIAC |
| 8 | Simpson | 16 | 4-21, 2-12 IIAC |