Spartans Rout Knights Thanks to Second Half Barrage
Jan 10, 2015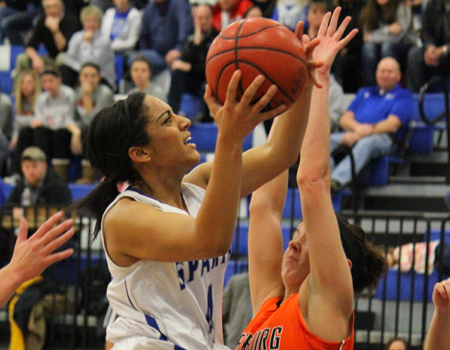 BOX SCORE

DUBUQUE, Iowa – A strong second half by the University of Dubuque women's basketball team that featured 20 points combined from seniors Brittany Collier and Kayla Springer, seven made three-pointers, and 56% shooting fueled an 80-54 rout of Wartburg on Saturday afternoon.

After giving up an 18-3 lead midway through the first, the Spartans (8-5, 2-0 IIAC) nursed a three-point advantage heading into the half. A new team emerged from the tunnel as Collier and Springer got to work.

The pair torched the Wartburg (9-4, 0-2 IIAC) defense as they scored 13 straight points for UD and stretched the Spartan lead from four to 13 at the 14:26 mark. UD continued to pour it on after an 8-0 run, capped by a pair of Jenna Kotas baskets, increasing the Spartan advantage to 21 with 6:29 to take the wind out of the Wartburg sails. Up to that point, the Spartans shot 5-for-7 from three-point land en route to a 7 of 11 performance in the second half. Unlike the first half, the Knights never threated as the Spartans lead climbed to 28 points before regressing as the game reached its conclusion.

Kotas came up big after registering her sixth 20-point game to go along with a game-high 12 rebounds. It was a game of season-highs after Jessica Goetz added seven assists, Meggie Schmidt swiped seven steals, and Collier distributed six assists.

Collier also shot a perfect (4-for-4) in the second half and was an all-around threat after adding 13 points and seven boards.

The Spartan defense flustered the Knights from the get-go after converting 20 Wartburg turnovers into 24 points. The IIAC's second-leading scorer (16.9 ppg) and best shooter (62.3%), Kailey Kladivo, scored just six of her team-high 14 points in the second half and finished 7 of 15 from the field overall.

The Spartans defeated the Knights for the fifth-straight time, including eight of the last nine.

Up next for UD is Luther (12-1, 2-0 IIAC) on the road this upcoming Wednesday, January 14 at 6:00 p.m. The Norse were victorious at Central, 61-54, on Saturday afternoon.