Women's Basketball Comes Up Short After Entertaining Affair
Jan 14, 2015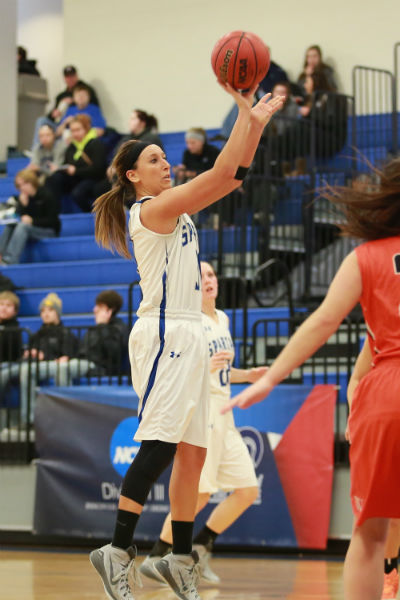 BOX SCORE

DECORAH, Iowa – In a game that featured 16 lead changes and 12 ties, it was a decisive 8-0 run late in the game that handed the University of Dubuque women's basketball team their first Iowa Intercollegiate Athletic Conference (IIAC) defeat at No. 25 Luther, 80-70.

The IIAC's leading scorer, Jenna Kotas, scored 20 points and pulled down 11 rebounds while Brittany Collier snagged her first double-double of the year with 10 points and 10 boards. It wasn't enough to prevent the newly ranked Norse (13-1, 3-0 IIAC) from defeating the Spartans (8-6, 2-1 IIAC) for just the second time in their last 12 meetings.

A quick 3-0 run capped by a pair of Daneshia Snitker free throws tied the game for the last time with 4:31 remaining. The surprising Norse – picked last in the IIAC preseason coaches poll – rattled off eight straight points, including six made free throws, to take control with 1:25 to go. Up to that point neither team had amassed a lead greater than four points in the second half. UD would cut the lead to six after a Kotas three-pointer, but they would come no closer as Luther sealed the deal at the charity stripe.

The Norse converted 11 straight free throws and finished 12 of 14 at the line in the final 2:18. Carrie Kilen canned six of those and led the Norse with 19 points and a game-high 13 rebounds.

The Spartans never held a lead greater than two as the Norse had an answer as the score broke even on multiple occasions in an equally exciting first half. An 8-0 run to end the first period gave the Spartans a 36-35 edge at the break.

UD relied heavily on its starters after being outscored in bench points, 27-9. The Spartan starters stayed aggressive all night after shooting the second-most free throws in a game this season, 32, led by Collier's 11.

UD makes the lengthy trek to Buena Vista (5-9, 0-3 IIAC) this Saturday at 2:00 p.m. The Beavers were defeated by Coe, 82-68, on Wednesday night.