Wrestling Hold Pioneers Scoreless in Dual Meet
Jan 22, 2015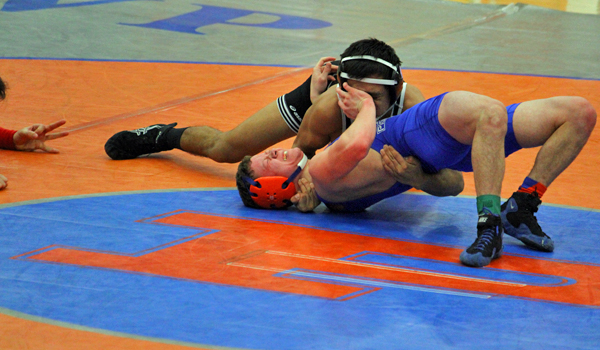 Nicholas Rivera captured the fall at 133 lbs. in 2:54 to seal the Spartans 41-0 victory over the UW-Platteville Pioneers.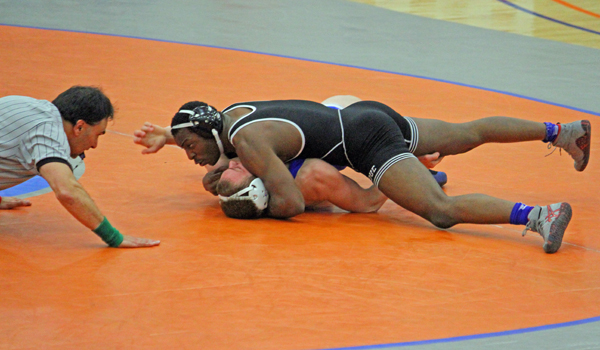 Elton Turnage captured the Spartans first fall of the evening on Thursday in the 174 lbs. weight class in 6:52.
PLATTEVILLE, Wis. - The University of Dubuque wrestling team left no dispute about the victor in Thursday night's dual meet at UW-Platteville. The match began at 141 lbs. and the Spartans Stephen Rosenburg opened the meet with a 12-2 major decision. The Pioneers wrestled well, but it was a total Spartan domination as they rolled off 10 consecutive wins to capture the meet 41-0.
Elton Turnage captured the Spartans first fall of the night at 174 lbs. in 6:52. UD would wait until the final match of the night as Nicholas Rivera would capture back points after back points before stopping the match early with a fall at 2:54 at 133 lbs. Only three matches failed to score extra team points as UD gained additional team points with major decisions at 141 lbs., 149 lbs., 165 lbs., 184 lbs., and 197 lbs.
The Spartans (5-8 in dual meets) season doesn't get any easier as UD travels to the Iowa Conference Duals on Saturday, January 24 in Waverly, Iowa. UD will face Central College (5-1 in dual meets) at 10:00 a.m., Buena Vista University (1-7 in dual meets) at 12:00 p.m., and host #1-ranked Wartburg College (11-1 in dual meets) at 2:00 p.m.
University of Dubuque - 41, UW-Platteville - 0
(match started at 141 lbs.)
141 - Stephen Rosenburg (Dubuque) def. Jeremy Peterson (UW-Platteville), MD 12-2
TEAM SCORE: Dubuque 4, UW-Platteville 0
149 - Brian Travis (Dubuque) def. Chase Wiggins (UW-Plateville), MD 12-0
TEAM SCORE: Dubuque 8, UW-Platteville 0
157 - Adrian Collier (Dubuque) def. Gunnar Melstrand (UW-Platteville), 5-3
TEAM SCORE: Dubuque 11, UW-Platteville 0
165 - Manny Mendoza (Dubuque) def. Michael Belanger (UW-Platteville), MD 9-1
TEAM SCORE: Dubuque 15, UW-Platteville 0
174 - Elton Turnage (Dubuque) def. Cody Meyer (UW-Platteville), Fall 6:52
TEAM SCORE: Dubuque 21, UW-Platteville 0
184 - Matt Leveille (Dubuque) def. Dylan DeShane (UW-Platteville), MD 10-1
TEAM SCORE: Dubuque 25, UW-Platteville 0
197 - Dominic Sterr (Dubuque) def. Josh Cannon (UW-Platteville), MD 10-1
TEAM SCORE: Dubuque 29, UW-Platteville 0
285 - Daniel HowelL (Dubuque) def. Brandon Boyle (UW-Platteville), 4-0
TEAM SCORE: Dubuque 32, UW-Platteville 0
125 - Joey Cisneros (Dubuque) def. Cole Ferguson (UW-Platteville), 3-2
TEAM SCORE: Dubuque 35, UW-Platteville 0
133 - Nicholas Rivera (Dubuque) def. Zach Stenger (UW-Platteville), Fall, 2:54
TEAM SCORE: Dubuque 41, UW-Platteville 0