Spartans Cruise to 96-60 Victory over the Storm
Jan 24, 2015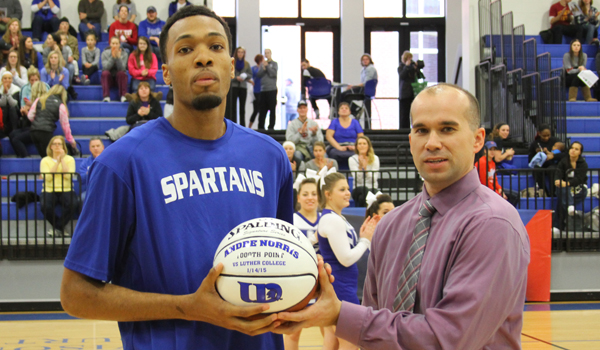 Junior forward Andre Norris received a basketball for his 1,000 point scored on Jan. 14 against Luther College.
DUBUQUE, Iowa - The University of Dubuque men's basketball team never trailed on Saturday against the visiting Simpson College Storm. UD led 15- 3 in the first five minutes of Saturday's game and blew through the Storm 96-60. Saturday kicked off the 100th anniversary of McCormick Gymnasium, the former host of Spartan athletics for over 90+ years.
The Spartans were able to put all 16 student-athletes on the court and 11 of them finished by scoring in the victory. Andre Norris led all scorers with 19 points which included 8-8 at the free throw line. Jacob Mohlis sank 5-10 attempts from the field to finish with 17 points. Kain Arthofer made 6-8 field goals for 15 points as teammates Lucas Ware and Brandon Ferguson both added 13 points.
The Spartans missed just four free throws as they sank 21-25 attempts (84%). UD sizzled in shooting, knocking down 33-59 attempts from the fiedl for 55.9% and making 9-19 three point field goal attempts (47.4%).

"We played really well offensively and I thought our guys shared the ball really well," said Head Coach Robbie Sieverding. "Kain Arthofer had his career high and gave us some offense off the bench. Jake Mohlis and the rest of the starters really set the tone the first five minutes of the game."
UD dominated the paint by scoring 38 points inside, 19 points off the Storm 15 turnovers.
The Spartans (14-3 overall, 4-2 in IIAC) take to the road next week, traveling to Cedar Rapids on Wednesday, Jan. 28 to face the league leading Coe College Kohawks (11-6 overall, 5-1 in IIAC) at 8:00 p.m. Saturday the Spartans face Loras College (7-10 overall, 2-4 in IIAC) for the second time in just 10 days. The Kohawks collected the victory in overtime on Saturday against the Central Dutch 80-73. Loras lost to Luther 64-72, the Spartans beat the Duhawks 67-55 on Jan. 21.

"Now we have the challenge of going on the road for five of our next six games," added Coach Sieverding. "Coe's playing really well and have a great coaching staff. We will need to play a complete game on both ends in order to be successful."